Biking Venezuela
By Cheryl Kline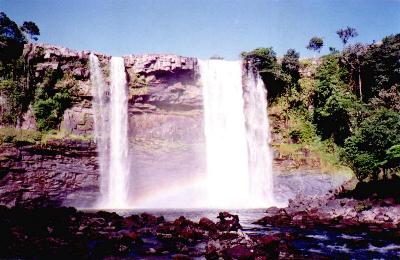 Email: travelinhobo@yahoo.com
Internet: www.homestead.com/travelinhobo and www.homestead.com/bicycletouring
Explanation of 'recommended sites' – These are places that I felt were worth visiting and would suggest to anyone who is in that area. All national parks (and info) are listed under this heading. In the same heading I have listed a few completely worthless towns/sites. As in any situation, this is all matter of opinion. Remember that everyone is different.
You will find info about police stations/guardia nacional under 'safety'.
At the moment, Venezuela is in a transitional stage. They have a newly elected President, whose name is everywhere. President Chavez seems to be loved and respected by the majority of the natives, most of whom are in the lower class sector. Some think Chavez has good intentions, but won't succeed. And others believe he is in the midst of turning the country's government into a dictatorship. While none of this is truly essential to the touring cyclist, it is good to keep in mind when planning your trip. If, like some believe, he will become a dictator, this could greatly effect your visit. However, the most prominent effect will be how you are received by officials (such as the police and border patrols). There has been wide spread corruption throughout the power sources of Venezuela until recently, when Chavez 'cleaned house'.
All that aside, Venezuela is a nice country to visit. The people are warm and very friendly toward cyclists, especially off the gringo path. Although you will not see too many other cyclists, they do know about cycling, as there is an annual race in August. The biggest problem with cycling Venezuela is the weather. The temperature remains constant thru out the year, whether it's the mountains or llanos. They don't have 4 seasons, only 2: the rainy season and the not rainy season. If you pick the llanos to cycle, be prepared for the constant humidity and high temperatures. They will kill you if you are not prepared!
Venezuela is not set up for tourists, as the locals will readily tell you. There are a few tourist offices here and there, however, most information will come from the locals, who are usually willing to help (if you know Spanish!!!).
One other thing to know is that towns can be far apart, even near the more populated roads. Although you should never need to use your water filter, be sure to bring one, along w/several water containers. Fill them up at the beginning of each day (if hotelling), so as to be assured that you will have liquids when needed. Bottled water is rather expensive (80 cents to a dollar for a 1.5 litre), but readily available.
This synopsis includes a small area of Venezuela, but the most easily accessible and popular route for gringos. I bicycled from the Caracas airport (actually located 25 kms. north, on the water) east to Rio Chico, south to Altagracia de Orituco, west to Valencia, south to Barinas, then west thru the Andes to Merida.
With one or two exceptions, there is a distinct divide between the llanos and the mountainous terrain of the Andes. The llanos, which is a flat plane, heads east of the Andes, beginning at Barinas and heading in the other 3 directions. The Andes, beginning a slow ascent between Barinas and Barinitas and then taking off from Barinitas, heads in a southwesterly direction from the Caribbean waters down into Colombia. While the Venezuelan Andes are not as high as other sections of the S. American chain, it is an intense ride to get your feet 'wet' with experience.
Other parts of Venezuela are hilly, with some steep climbs. However, with some careful planning, these can usually be avoided.
Venezuela's topography varies depending on altitude. On the llanos, tropical fauna such as palm trees, coconut trees and banana plantations are an everyday sight. Most plantation properties are fenced in, making free camping difficult. In the Andes, you'll find rocky terrain, and fir trees. But during the rainy season, you will always encounter the lushest greens in these mountains.
You can find specific information about the terrain under ' Roads'.
Most of this portion of Venezuela is well paved. The only unpaved section I came upon, was along the Caribbean road from Osma (east of Macuto) east to the outskirts of Higuerote. This was also a very steep climb, as noted below.
One thing to note: Venezuela has a rather confusing stop light system. In some towns when the light is red, the drivers go.
Coastal road in good shape, tho debris on side of road
Macuto to Los Caracas – heavy traffic for first 15 miles (mostly beach goers)
Past Playa Los Angeles, traffic ceases, but picks up again near Los Caracas (hot, but coastal breeze helps)
Los Caracas – immediately east of here road changes for the worse becoming steep and windy, and the road changes to cement, pavement and rocky dirt. Not a good road.
Osma to Todasana - road immediately turns into unpacked dirt and begins steep ascent. Some of the road consists of sand, a lot of rocks and dodging potholes. Cars spew dust when traveling fast.
Todasana to LaSabana - dirt road continues, paved at parts.
LaSabana to Chuspa - dirt rode continues and becomes quite difficult to navigate. However, prior to LaSabana, the hills stop and the terrain becomes flatter.
Chuspa to (north of) Higuerote – rolling hills and dirt road continue until just before the turnoff for Higuerote (at which point there is a great downhill on pavement). This section is better than Osma to Chuspa.
Road to Higuerote - very well paved and mostly flat but with no margin. Has less traffic than dirt road.
Higuerote (south) to Tacarigua – uphill climb with consistent grade slope.
Mamporal to Tacarigua de la Laguna - no margins on road, relatively flat terrain.
Mamporal to Rio Chico – no directional signs in town previous to Rio Chico. Once in Rio Chico, follow signs for Tacarigua. At Shell gas station, turn off for PN is road w/beach signs.
Tacarigua de Mamporal to Caucague (32 kms.) – rolling hills and road is well paved, but for most part, no margin to cycle in. Debris is limited.
PN Guatopo (heading south) - last 3 miles is entirely uphill – some stretches steeper than others; lots of traffic in park, especially trucks. Agua Blanca campground to Altagracia is flat to hilly, becoming hillier towards the end. A few nice downhills.
Altagracia de Orituco (south side of PN Guatopo) – the town is set at the base of the mtns., which surround it on most sides
Altagracia to Taguay (30 miles) – road good until just before Taguay; terrain varies between flat and hilly, hillier towards the end.
Paradillal to San Juan de Los Morros - hilly; shady trees along road alleviates some of the heat.
San Juan de Los Morros to Villa de Cura - road is extremely dangerous for the latter half. NOT recommended. 2 lane road w/no margin and constant trucks and busses. Trucks will honk you off road. 2 lanes eventually become 4 lanes that turn into a 6-lane toll freeway (no problem riding bikes on it).
Villa de Cura to Valencia - safe and quiet.
Guigue – just east of here is an extended climb. East to west is definitely the easier and recommended direction (downhill will be fast and steep).
Valencia – lots of traffic
Acarigua to Guanare - road was nice w/huge emergency lane until Ospino where road returned to 2 lanes w/no margin. At this point, becomes dangerous road, esp. for first few kms. Trucks and buses honked for us to get off road, which we did several times. Most dangerous times were when both lanes had vehicles (w/1 lane empty the cars could move over). There is no shoulder on the road, and a lot of sections next to the road are steeply sloped, or leading into a ravine – thus NO opportunity to dive off road.
Guanare – Barinas road is as dangerous as from Acarigua to Guanare – no margin of safety to bike. Not recommended. However, there are tiny towns/establishments along the route as well as a toll stop.
Barinas to Barinitas (15 miles) - flat w/occasional uphill until a few miles outside of Barinitas. Then gradual hills turning into a very steep uphill.
Barinitas to Andes - 4-lane road becomes 2 lanes w/no margin to cycle. No trucks on road, (it was a Sunday), but some buses. Cars gave plenty of room and lots honked and waved.
Barinitas to Santo Domingo (30 miles) – entire road paved; uphill most of the way (20+ miles). Begins w/uphill, then steep downhill (parts of down hill road were missing), then uphill for the next 5 miles (consistent grade). Lowest gear all day. At mile 11, a 6-mile stretch of flatness begins. Numerous tiny villages and homes along this portion (saw lots of cyclists); then uphill again for rest of the ride.
La Mitusus to Santo Domingo (8kms.) – steep grade lasting 5-7 kms.
Santo Domingo to Parque Nacional Sierra Nevada I (12 miles) - all uphill with different grades of slope – definitely the steepest part of the climb to Merida.
PN Sierra Nevada I to Merida (about 60 kms.); mostly downhill for the first 25-30 miles. Very cold and dreary at top. At mile 30ish, 7-mile uphill ride begins around the mtn. edges near Merida. Rather nerve wracking to bike uphill near edge w/so much traffic.
Roads in and around Merida are rough to cycle. All are paved, but not smooth and makes for VERY bumpy, shaky ride – cycling gloves essential! Helmet also required. The drivers know no red.
The drivers of Venezuela, while not the safest, were more than considerate. They provided a good berth when passing, and often honked to say hi. Touring cyclists are not common in this country, and the sight surprises many.
One safety precaution – we received many warnings from locals about robbers and thieves along certain roadways. Although we never encountered them, I did keep the majority of my money hidden (in my shoes, under the insert).
Traffic conditions to Macuto – drivers are awful and dangerous among themselves. Won't stop for cyclists if wanting to get over to right side. Road conditions including various debris, uneven pavement and ditches, require utmost attention
Macuto and east - along coast drivers are not bad; rather courteous for the most part. They do move over but honk a lot (possibly to warn they are approaching from behind). Buses are the most dangerous vehicles, as the drivers will not move over as they pass.
Osma to Chuspa - dogs are quite tame, but ignored by locals and always looking for food.
Mamporal to Tacarigua de la Laguna - courteous drivers.
Rio Chico south (to El Guapo) then east (to Caucagua) route - is unsafe (from several local sources)
Caucagua – warned 5 miles east of here that we should not stop to ask for directions unless it's a roadside establishment w/lots of people.
Cucagua to Parque Nacional Guatopo - many locals will warn you that there are robbers on this road
Altagracia de Orituco - police at station in town are extremely helpful.
Camatagua – cops may be of some help. Do not rely on their distances
Pardillal – Guardia Nacional; turn right at 'Y' (across from 3 bldgs.) and follow road (which turns into dirt) for another mile or so.
Villa de Cura - police extremely helpful in directions and finding us a hotel.
Paradillal to Villa de Cura - chased by a few dogs – yelling 'no' worked
Guanare – some kms. north of the town is a Nacional Guard checkpoint where they do check passports
Depending on the route, a mountain bike may be a better choice. However, the majority of the roads are paved and a road/touring bike will be more than adequate. Make sure, that for an extended amount of time, to bring extra parts, like bottom bracket and extra spokes. Although there are plenty of bike stores, they may not have the correct sized tool or part your bike requires.
In almost every town, there is a bike store. The bike stores, tho extremely small, carry normal parts (deraillers, pedals, rims) for local bikes. The majority of bikes ridden by the locals are one speed or 10 speeds.
Higuerote - bike shop; police are even on bicycles.
Barines – large town w/at least 3 bike stores
Merida - has numerous bike stores/mechanics. Try the shop on 26th, between 6th and 7th in the apt. bldg, just before the entrance; owned by a bike racer.
Camping is not much of an option in this region. Along the Caribbean, in isolated villages, you may be allowed to pitch your tent. However, outside national parks, there is not often opportunity to camp. I never saw an actual pay campground.
Osma – can camp near stream (on road which cuts off to the left in front of hotel)
Chuspa - police advised us to camp on beach, not baseball field. There is a running hose from which you can shower (discretely). Let police know you are there, and they will look after you. Police will oblige and let you keep your bike and valuables at the station over nite.
Pardillal (23 kms. west of Camatagua) - turn right at 'Y' (across from 3 bldgs.) and follow road (which turns into dirt) for another mile or so. Just past the Guardia Nacional, is a store on the left side (El Parador de Chira). Very nice owner will let you tent behind bldg. Can use restrooms and sinks. His open air store/bar has a large variety of goodies not found elsewhere.
Posadas and residencials are the cheapest way to sleep. Away from gringo trail and tourist spots, they can be found for cheap; sometimes very nice, sometimes roach infested. Always inspect the room first, so that you know what you're paying for. If there is only one hotel in the town, chances are slim they will lower the price. If there are several, check around. A great place to find out what is good but cheap is to ask at the police station or the national guard station. They are usually helpful, and of course, inquisitive.
Osma – (10,000 BV for 2 beds). Nice rooms, no tv (be careful of bats). Dinner of fish, rice and fried platanas cost 3,000BV. Look for Dick who speaks English. Is friend of hotel owner
Chuspa – has lots of Posadas
Tacarigua/Mamporal – was recommended not to stay in Tacarigua; to stay in Mamporal. Police in Mamporal highly recommended NOT camping, as it is unsafe. They recommended same hotel as natives (it is the only hotel in town) - Mi Recuardo (5,000BV for double) noisy, useless fan, shower dribbles, sink runs out of water, roach infested. NOT recommended.
Caucagua - supposedly only 1 hotel, Hotel Tajamar (15,000BV w/2 beds). Serves cold water to guests. Has jacuzzi, pool tables and café. Rooms are very nice and clean. Does not have maps of area. At the top of a very steep street. (bus station directly below on other side)
Villa de Cura – several hotels; can be had for around 10,000BV for double (2 beds, shower, cable tv, space for bikes in room)
Acarigua (near Araure) – do not get hotel assistance from bus station guard as he will take you to roach-infested-hole-in-the-wall motel 2 blocks down the street (5,000 BV for double).
Guanare - Motel Portuguese (13,000 – 15, 000 BV for double room-ask for a cheaper room). Has swimming pool, bar, restaurant. Located on outskirts of town coming from Ospino
Barinitas – Hotel El Jardin (10,000BV for double) w/AC, tv, hot and cold water; also has rooms w/fans for 6,000BV
Santo Domingo (alt. 2,170meters) – half a dozen hotels, rather expensive. Halcon de Oro (12,000BV for double) Dim light, no tv, hot shower, cold room (provides blanket on each bed) – not worth the money. Apartmentos Turisticos – nicer place for same price. Room is smaller but cozier and much warmer, w/tv (these apts. rent out for 25,000BV/nite – manager let it to us for 12,000BV)
Merida Hotels:
Panama had cheap rooms (prices listed on wall of office), but scummy people hanging around.
Posada Europa – more like a hostel; (5,000BV/room) most rooms have 4 beds with no windows, small cooking area; they offer spanish classes, however only 2 of them teach spanish and 1 of them speaks only a bit of English. Said he could store bikes in the hallway – they wouldn't get past his desk, as he's always there. Didn't seem genuine.
Posada LaJoya - (4,000BV/nite) a bit dark interior, but seemed okay.
Residential San Pedro – (4,000BV/nite). Owners are quite friendly and helpful even tho they don't speak English. 5,000BV/nite for 2 people double room. Nice kitchen facility and shared bathrooms. Large rooms – can store bikes in rooms. Centrally located. Highly recommended.
There are 2 seasons in Venezuela: the wet season and the dry season. Both seasons remain constant in temperature, tho humidity may vary during year. On the llanos, a rain suit is not required due to the high temp's. Take caution around rain puddles. Some of them can get very wide and deep. In the Andes, however, it is highly suggestible, as the temperatures are much cooler than on the plains.
The temperatures during mid-August to mid-September during the time I cycled I estimated to be between 90-95F (outside of the Andes). Keeping your body hydrated AND your skin protected is extremely important. Make sure you set off at the beginning of the day with enough water and your body replenished from the day before. Make sure ALL uncovered skin (esp. upper body) is covered with sunblock!
Once in the Andes, the days were cooler (great for cycling) but the nites were much colder. I encountered, fog, mist and then a cold drizzle between Santo Domingo and PN Sierra Nevada I. In fact, one of the nites at PN Sierra Nevada I, snow fell on the higher peaks!
The main way to travel in Venezuela is by 'autobus'. Buses are to Venezuela, what planes are the train is to Europe. No matter what town you're in, there will be a bus station or, at the very least, a bus stop. Bus stations work differently than other continents. Instead of just one or two bus companies, there are usually half a dozen to chose from. All have different rates, depending on class of bus, distance traveled, amenities. Every one in town will know where the bus station is. Caution: mechanical difficulties are not uncommon on buses. During one of my trips, the bus got a flat. Everyone emptied off, leaving the bus to myself. It took the driver over an hour to change the tire. If you're in a rush, try another means of transportation.
Another option available is catching a ride on the back of a truck. This is one of the characteristics of Venezuela; numerous people riding into town on the flatbed of a truck. There are no trains in this country.
Finding a bus that will allow your bicycle on is not easy. However, finding a bus, that will allow your bicycle and luggage on is more difficult. Most buses (except for the luxury) have no place to store bikes except for a tiny compartment in the rear of the bus. This compartment, usually used to store tools or a tire, is large enough for one bicycle, sometimes two. While the company's office can tell you if they accept bikes, you will usually have to haggle with the driver himself (not the bus office) over the fee and placement of the bike. Wheels may be required to be taken off. And if there is more than one cyclist, it is easier to fit 2 bikes in if the pedals are taken off too.
Watch out for 'helpers' when loading your bike and luggage. They look as tho they are part of the bus staff, but are locals looking for a tip. Don't forget to get a window seat, so that you can make sure your bike (or panniers) doesn't take off during one of the stops.
Access to the bus stations is quite easy, and you can usually roll your bike into the building with you, while checking out your options.
Most of the bus companies who accept bikes will charge you an extra fee. It can vary in price, however, is usually cheap. If you ride a near full bus, and your panniers take up too much room, you may be charged extra.
Altagracia de Orituco - can not load bikes on buses. There is no bus station in this town, only a bus stop. The buses stop only for as long as is needed for everyone to board. The bus collector will agree to let you load your bike, but w/a loaded bus, there will be no room for it.
Caucagua - bus station located directly below and behind Hotel Tajamar.
Valencia - bus station located on main road from the south, on east side just past amusement park
Valencia to Acarigua – only 3 bus companies who drive this route; one price was 10,000BV (executive bus); one for 6,000BV; one (Transporte Curigua) and one 3,400 BV.
Transport Curigua leaves every few hours or every 15 min. couldn't figure it out – have to search for driver/rep outside. Were able to put bikes w/wheels removed in rear storage area in back; other bike (wheels removed) turned upside down on bus in back. Paid for 3 seats each (thus 3400) – bus empty, possibly due to middle of week
Guanare – a few buses going to Barinas (just under an hour). Bonanza will accept bicycles (rear of bus in storage area – 2 can fit) 2,000BV for each person total. (cheaper than if we'd continued traveling w/the other bus)
Barinas bus stop is mayhem. Men waiting for busses are helpful holding my bike (while I bungee) and handing me items, if needed.
Merida - Main bus station: on Las Americanas just south of McDonald's. At least 2 companies have space for bikes. To Caracas, they all seem to be priced about the same 12,000 – 13,500BV. Express Merida takes 12 hrs. leaves only @ 8am – 10,000BV (bikes 5,000BV extra)
Express Occidente leaves only @ 6pm and 8:30pm – costs 12,000BV – no extra charge for bikes, tho they prefer to have them boxed (tires off and tape req'd)
With the occasional exception, Spanish is the only spoken language along this route. Extremely few natives know English. If you don't speak decent Spanish it will be a blessing when you find someone who does. LEARN SPANISH before going. If this is going to be a short, few-weeks trip, learn the basic phrases, as well as many descriptive words as possible. If this will be an extended cycling trip, learn the grammatics of forming sentences and verbs, and vocabulary. Expect the locals not to understand your spanish 'accent'.
The Venezuelans are, for the most part, friendly and inquisitive, especially away from the gringo trail. I found the male children to be the most inquisitive, wanting to know about the bike itself. Touring cyclists are a very rare sight east of Caracas. It provides an excellent opportunity to get to know the culture and people. Expect a lot of non-threatening stares, but also a lot of waves and greetings.
I found men willing to help me in bus stations whether I needed the help or not. I received many positive honks and waves, especially east of the Andes.
The only cybercafes are to be found in Caracas and Merida. It seems as tho there's a new one springing up every week in Merida. The charge is cheap (1,000 Bvs/hr.), however printer copies are expensive (300-400bvs/page).
The safety of traveling as a woman in Venezuela should not be a concern. I received very few whistles/cat calls. Although I did have a male biking companion, I would not hesitate to recommend solo cycling. (The only danger is that of the unseen highway robbers, and even with 2 cyclists, you're still at risk.)
Due to the high unemployment, numerous persons hang out on the street during the day (including teenagers). However, they are much more inquisitive and awed at your site, then a threat. If in doubt, stop in at the local police or national guard station.
Feminine products can be found in large towns through out Venezuela. Although pads will be more expensive than in the US, they are available, and in different sizes. Pads are more common than tampons. You can find both in supermarkets or specialty stores.
Too many to list. Consult S. American Handbook.
Besides the typical cycle touring items one would bring, the following is highly suggested for a trip thru Venezuela:
Extra water bottles, and/or water containers.
Extra bike parts that may be needed
A very good foundation of knowledge on bike mechanics
Water purifier, or at the least, iodine tablets
Suntan lotion (I read that it is hard to find anywhere in S. America)
Spanish dictionary – you will use it!
In regards to the needs of a cyclist, the food situation in Venezuela is grim. Although you will never find a supermarket empty of food, what you will find is very little variety. Even in the 'large' supermarkets, don't expect to find masses of varieties. Outside of the Andes, I encountered few panaderies (large bread and pastry shops), seldom saw fruit (other than bananas and coconuts), and never saw those well-read about fruit juices. Due to this, my food intake was not what it should have been. Take this into serious consideration before deciding on where to bike.
In Venezuela, supermercados are usually called automercados.
Naiguata (?) to Los Caracas – NO towns or facilities
Los Caracas – has sparse automercado. Is a few miles in, ask for directions
Osma – no supermarket, just a small 'convenient' store and bread shop
LaSabana - has supermarket, tho it's literally a hole in the wall w/nothing substantial to offer. Closes for siesta around 2 or so.
Chuspa - has market
Higuerote – has good size market (closes for siesta), bakery, etc.
Tacarigua de Mamporal to Caucague (20 miles) – fruit stands every few houses; road side restaurants that include nice restrooms.
Caucagua – PN Guatopo; fruit stands continue along road
Altagracia to Taguay (30 miles) - extremely few services along road.
Camatagua – reg. town supermarket and panaderia
Guigue – good sized town with large supermarket
Barinitas – west into Andes; route has kiosks every few kilometers, so food/water isn't hard to find, tho they never had litre water bottles, just small glass ones.
Santo Domingo to PN Sierra Nevada - there were a few places along route for food and water
PN Sierra Nevada I to Merida - numerous little villages/towns on way down selling local crafts(?)
Altagracia de Orituco - restaurant dinner of huge plate of chicken and rice was 1900BV
San Juan (road side station) - melon juice 600BV
Santo Domingo – Halcon de Oro restaurant serves a very good onion soup (2,000BV); their chicken burger for 2,000BV isn't good. Charges for butter.
If flying with Lan Chile (or most any other airline), you will be required to purchase a round trip ticket, if you don't already have one.
Caracas airport - ATM machines/bank/food on upper floor of airport (use elevator); water from tap is okay to drink and tastes fine. Woman at info office speaks little English, but is helpful.
APPLY SUNSCREEN EVEN FOR THE SHORT RIDE TO YOUR HOTEL.
If heading to Macuto, get directions from employees or info office.
Banks - Some banks have ATM's. Those that don't (or where machines are broken or only in spanish) can give you a cash advance over the counter. I never had a problem doing this. However, outside of the tourist areas, it may take a long while for them to do the paperwork (In Acarigua, it took the employees over an hour to process it!). Banco de Venezuela – only accepts MC and Visa (not AX). And don't forget that most banks close for siesta!
If contemplating cycling Colombia – I met 2 Argentine tourers who had cycled north, flying over Colombia instead of cycling.
Caracas – I heard absolutely nothing positive about this town. I met a woman who was robbed in daylight in front of a museum, and many of the natives who asked us if we'd visited Caracas (and we said 'no'), gave us a finger-across-the-throat sign. I would highly suggest against bringing a loaded bike into Caracas.
Todasana – wonderful non-touristy beach
Chuspa – last coastal town on this road. Nicer than the others, but beach and water is dirty.
LaSabana – forgettable town, not recommended to visit;
Chuspa – Carribean coastal town offers great photo opps in the morning w/the vultures.
Beach near Higuerote is nicer than Chuspa, but not great.
Higuerote - nice church on outskirts of town center
Ospino – dippy town
Barinitas - nice town to stop in for the nite. Town has large park, which possibly could be camped in?
Barinitas to Santo Domingo - this route's scenery is extraordinary – waterfalls, green, Andes
Santo Domingo – this is a nice mountain town, esp. at dusk. The info center (on far side of town) has some info and trail maps of PN Sierra Nevada I and does speak some English.
Parque Nacional Tacarigua
Inparque Nacional office in Tacarigua de la Laguna – past beach road and over bridge.
500BV entrance fee; 500BV to camp. Can camp 8 kms. down on beach on OTHER SIDE of wide river. Is possible to store bicycles in Inparque's rooming house. Must hire boat (next door) to take you there. They also rent out for hour and a half 'tours' promising you will see flamingos, but you won't (unless you go during Jan/Feb and Mar/Apr). And the tour is up to you to keep track of the time. 10,000BV total/per person (bargaining possible) plus they ask for a tip. Refuse giving a tip and don't budge. Can see different colored ibis', pelicans and a few other bird species. Not worth the money. From camping spot on beach near hotel, dolphins can sometimes be seen early in the morning off shore. Can also see large iguanas roaming around park office.
Parque Nacional Guatopo
Inparque Nacional offices inside the park – first office 11 kms. into park where there is a restaurant at the top of the hill, at the intersection for St. Theresa, and Altagracia. Second office located on road heading towards Altagracia de Orituco.
There are a few campsites within the park, including Agua Blanca, which is also a recreation area and a site 3 kms. south of there, where one of the trails begins/ends. Do not camp at this latter one as the wild monkeys will do you harm! Park closes before sunset has completed. None of the parks offices have any brochures or written information.
Agua Blanca campground - numerous rangers at this site who can direct you where to camp. They may let you store bikes inside bldg, which is their housing unit.
If hiking in this area, be cautious of poisonous yellow snakes, which may be resting on the foot trails. Among some of the creatures to be found: crabs, frogs, blue butterflies, lizards, some type of large turkey sounding bird and wild monkeys!!
If visiting during rainy season, take heed of rangers' cautions about the Agua Blanca campground stream overflowing!! Do not camp anywhere near a river that would overflow your campsite, or that is situated near rocky elevated ground. Landslides and rockslides do occur during torrential storms!!
Nice views along the main road.
Be wary of Parque officials – if they check your passport, they'll want to see a visa, even if you don't require one!
Parque Nacional Sierra Nevada I (alt. 3600 meters)
2 park offices – one at park entrance, one near campground; 200BV entrance fee; 1,000BV/nite to camp (pay at first office). Interior park office may be closed.
Camping area has rocky terrain – possible to get stakes in. Trails in park are flat; no wildlife
Parque Nacional Sierra Nevada II
The Teleferico (cable car) is the most popular attraction in Merida. It opens at 7am and the last ride down is at 2 or 4pm. There are 3 sections to the Teleferico. Cost is 7,500BV for the first 2 sections and an additional 5,000BV if you wish to go to the top at Pico Bolivar. You can take the cable car up and hike parts or all of it on your return. Relief maps ($1) of the park and trails can be purchased at the Inparque office at the Teleferico.
Merida
Merida does not have the same aura to it as the rest of the towns in Venezuela.

Info office is pretty well marked. They have crappy maps The one in S. American handbook is much better. They don't speak English and have no info on spanish schools.

Several cybercafes in town. LaAbadia café charges 1500BV/hour. Several others charge 1,000BV/hour.

Colombian embassy has moved to Av. Andres Bello in the CC San Antonio center – they do not speak English and can not offer much help.

Cafes and restaurants all over town offer 'almuerzo executivo'. These are lunch specials which range from 1,000BV – 2500BV. These are the best deals in town! And yes, the food is good and filling.
Good croissants @ panaderia on 21st Calle between 4th and 5th.
IOWA Institute

Avenida 4 con Calle 18

Email: iowainst@ing.ula.ve / www.ing.ula.ve/~iwoainst

Offers group and private classes ($115/160 per 18 hr. week). Provides homestays for $95/week inc. meals.

Instituto Anglo Americano

Independencia y Av. 3

Offers private lessons only. Provides homestays and apartment rentals. All costs are for a minimum 2 week stay. There is a non-refundable $100 'enrollment fee'. Fees vary according to length (15/20/30 hr. week). There is a 2 week minimum requirement.

Instituto Latinoamericano de Idiomas

Av. Las Americas, C.C. Mamayeya 4th floor

Email: ildi@bolivar.funmrd.gov.ve

Offers group and private classes ($145 per 19 hr. week/$17/hr.). Provides homestays for $118 including 2 meals/day

VENUSA

Avenida Urdaneta #49-49

Edifcio Guilam

Email: venusa@telcel.net.ve / http://www.flinet.com/~venusa/

Offers group lessons only ($540/first 2 wks. per 20 hr. week, $180/add'l wk.). Provides homestays for $75/wk. including 3 meals - with 2 week minimum. This school works in cooperation w/colleges in the U.S.
Merida Airport
4-6 airlines @airport. None have bike boxes. Aeropostal is quite expensive. Avensa req's bike to be boxed for int'l flights ONLY. No extra charge if 1 of 2 boxes checked. 20kg each allowed (tho they're not very strict about that)
www.samexplo.org – S. American Explorers Club website.
www.geocities.com/thetropics/island/6810 - good personal website set up for info/narratives on biking any countries in S. America
www.travel.to/bolivia – info on traveling and biking Bolivia
www.move.to/colombia – info on traveling Colombia
www.jonsaltzman.com – personal narrative/info from a solo motorcyclist who spent a year traveling S. America
www.studyspanish.com – website listing schools in S. America for language study
www.pipeline.com/~andesad – Andes Adventure Mtn. Biking Trips in Peru by Carlos Dall'Orso
Peru Hiking Club – contact Cisar at ppaz@conida.gob.pe
www.travelmate.com – travel message boards
www.detravel.com – S. American travel agency
Me Again Travel (718)852-9410 – NY travel agency specializing in S.American journeys
Walter Sienko – Latin America by bike
A good attempt at providing an introduction of cycling in numerous countries. However, these are specific planned routes, not an overview of cycling in each country.
South American Handbook
Most travelers will agree that this book is more extensive and much better than the LP guide. The only bad thing about using this handbook is that the maps suck (when they include maps). However, I have learned that in the new editions, the Handbook staff is improving this feature.
This page is hosted by South America Touring Links Collection of South America biking travelogues