Touring notes: Guatemala
By Ivan Viehoff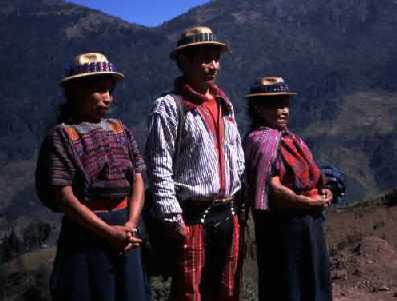 Guatemala (meaning the Land of Many Trees) is a very attractive touring destination. It has about the same area (100,000 km2) and population (11,000,000) as Portugal. It offers the highest mountains and volcanoes in Central America; the most amazing and numerous archaeogical wonders in Central America; friendly people - the largest population of native Americans outside Perú, many still wearing traditional native costume and speaking native languages; colourful markets; an extraordinary variety of scenery - highland pine forests, untouched lowland rain-forests with extensive wildlife and great stands of desert cactus; a spring-like climate in the highlands; hot springs; etc. In fact it has everything and more than the rest of Central America put together, apart from beaches and coral reefs. Moreover, with the application of a little common sense, the tourist need expose himself to no worse a security risk than many European touring destinations.
These notes are based upon a 3 week cycle tour in February 2000.
Guatemala has a rapidly growing network of paved roads, though to avoid unpaved roads (terracería or pista) would be to miss much of what is best in Guatemala. Some of the older paved roads are quite badly broken up. The unpaved roads that I used were all well-consolidated, if lumpy, and on balance rather better than most places I have been. Level roads are the exception rather than the rule, even at lower altitudes, and hills can be surprisingly steep considering the vehicles that try to get up them. Signposts are found only on major roads. You will to need to ask for the road out of town – speed bumps are a good indication you are on the main road.
Driving standards are Latin American, but on the whole better than many other such places. The busier roads have the more impatient drivers, so try to avoid extended cycling on the following busy roads: the Carretera Pacífica (CA-2), Guatemala City to Puerto Barrios (CA-9), Guatemala City to Escuintla, and the sections of the Carretera Panamericana (CA-1) in the immediate vicinity of Guatemala City. Away from the vicinity of "Guate", the Panamericana is not too bad, as most long-distance and international traffic uses the Pacífica.
The road system is undergoing rapid change. Roads are rapidly being paved and new roads built. Large parts of Guatemala were evacuated during the civil war, and many minor roads fell into disuse. The government has carved out new minor roads for returning settlers on a rather different pattern from the old ones, often with EU funding. So the minor roads shown on all maps are very unreliable. You can often get a better idea of where you can go by reading guide-books, and of course by talking to knowledgeable locals. Typically there are so few roads that the risk of getting lost is small.
Watch out for evil speed bumps, even on major roads, since there is rarely an escape route for cyclists. Only occasionally will you see a warning sign announcing túmulos. Other road hazards include unridable cobblestones in some villages, wheel-trap drainage covers, and hundimientos (wash-outs).
November to February is the cool/dry season, and this is the best time to go. Rain is rare in the highlands at this time, particularly after Christmas, though as you head north into the misty Verapaz hills, rainfall is more evenly spread through the year. Temperatures are pleasantly spring-like above 1500m, varying with altitude. Unfortunately the air is usually hazy after 9am. The Petén is also pretty dry and not too hot at this time of year, though minor roads can remain muddy into January. In the coastal lowlands, downpours are possible year-round, though it is cooler and drier than the rest of the year. Certain valleys in the interior have a near-desert climate, and are hot all year.
March to May is the hot season. Temperatures increase everywhere, and the risk of rain is generally a bit higher. But this is still a tolerable period for touring the highlands or Petén. Least attractive, June to October is the wet season, the wetness often peaking in September/October. This period is locally called "winter". Although rain is often limited to afternoon downpours, many gravel roads become impassible for extended periods. Humidity increases greatly in the lowlands. This is also the period with the greatest risk of tropical storms.
Guatemala is 6 hours behind GMT; some years it bizarrely observes March-September daylight saving. Sun is overhead at around 12pm and daylight hours are around 12 hours all year. Do as the locals do: get up around dawn, and get on the road in the cool clear air of the early morning when the birds are still singing.
The best available map is the ITM Travel Map of Guatemala at a scale of 1:500,000 (not available in Guatemala). It has shaded contours, but the difference between the 1200m contour and the 2100m contour conceals many major climbs. As noted above, the minor road network shown is largely fiction. Also many of the distances shown, even on major roads, are just wrong. The claim that the Altos de Alaska is the highest point on the Central American section of the Pan-American highway is bizarre – it overstates the spot-height by around 700m, is completely inconsistent with its own contours, and besides everyone knows the actual highest point is actually in Costa Rica. The ITM Travel Map of Central America at 1:1,000,000 is rather too compressed to be of use unless all you are doing is following the main roads.
I found the Rough Guide has the best coverage and route details of any available Guide. The current Lonely Planet has a recent revision date but has little updating from the 1994 edition. The Central America Handbook from Footprint as usual gives a lot of information in a small space, and helpfully gives altitudes of many highland towns and villages, but has limited coverage.
Accommodation is usually available in any sizeable settlement, so a tent is only required if you intend getting really off the beaten track. Accommodation is generally cheaper, and also of lower quality, away from well-visited tourist sites. Expect cold showers at lower altitudes (and prices). A variety of unwelcome wildlife is encountered at less salubrious establishments.
Camping is not advised alongside main roads or in the vicinity of popular tourist attractions (see security notes below), and especially not on volcano hikes. It is possible to camp in small villages with no accommodation provided you have the agreement of locals. Otherwise camp away from people and well out of sight. There is a supervised camp-site at Tikal, but at $6 or so it could be cheaper and less worry to stay at El Remate and pay for the 30 minute commute by minibus.
Best to bring a petrol stove. Petrol is leaded. I found it hard to get stove alcohol (meths) – the best we could find was only 70%. I saw no evidence of camping gas bottles or white gas (bencina blanca). Nor did I see kerosene (paraffin), though presumably it's obtainable somehow. There is plenty of firewood for the gathering away from settlements – it's what the locals do.
Food is widely available, even on Sundays. In quiet places restaurants close around 7.30, and even in bigger places most things are closed by 9.00. Some villages have specific market days (usually starting the previous evening and lasting until early afternoon), and you may have difficulty getting much in the way of fresh fruit and vegetables at other times in such places. There are regular spots to get food and drinks in villages and on larger roads, especially at junctions.
Bottled drinking water is widely available. It is cheapest in town shops where you can often get a (US) gallon for around 5Q; roadside stalls and cafes sell it much more expensively and in smaller bottles. Surface water is likely to be badly polluted in the vicinity of settlements. Large areas of eastern Guatemala are limestone, and thus surface water is surprisingly scarce, even in the jungle.
There are large numbers of cheap mountain bikes in Guatemala and large numbers of basic bike shops to service them. Maya Tour is a locally made brand. Spare parts are mostly very basic, but in some larger towns there is a bit of nice Shimano available. There are also some nice racing bikes to be seen, and 27" clunkers, but you won't find any touring components for 700C.
It is cold at night in the highlands, where frosts are possible, so take some warm clothes. A light sleeping bag is useful as most hotels supply insufficient blankets, and you may not always wish to use the bedclothes. Well-sealed panniers are advised to keep unwanted passengers out. It is wise to have some water purification system (boiling is best) for when you run out of the bottled stuff. If you have sensitive skin, take some good suntan lotion as typically only medium to low factors are available locally. In the wet season a mosquito net is a good idea.
The Bradt guidebook to hiking in Central America has an unusually detailed and specific discussion of health problems which can be encountered in Central America.
Amoebic dysentery is endemic. Even the locals don't drink the tap water. The great majority well understand the dangers, so you can be reasonably confident that what you are given to eat/drink is likely to be reasonably safe. Of course, you may suffer some moderate traveller's diarrhoea until you get used to the local benign bacteria. Peel or cook all fruit and vegetables and disinfect anything you cannot peel or cook (suitable disinfectants are available in supermarkets).
Vaccinations against Hepatitis A, Typhoid and Yellow Fever are advised. The lowlands have a moderate malaria risk, greatly diminished in the dry season. Few visitors bother to take malaria prophylaxis in the dry season. In the wet season, chloroquine is usually prescribed.
Chagas disease, transmitted by the vinchuca, a beetle-like insect, is sporadically present in poor housing conditions, but it is a milder strain than the South American version, and is only present up to about 1500m. It is very rarely caught by travellers, but it can be fatal in 10-20 years if not diagnosed within a few months; so beware of accepting overnight hospitality in primitive dwellings in the lowlands. Leishmaniasis is another nasty disease of poor housing conditions which travellers have occasionally caught; it is transmitted by sandflies and results in disfiguring growths, but it is treatable back home if you go to the experts.
The Guatemalan sun is strong, especially in the highlands, so a broad brimmed hat, dark sunglasses, high factor lip protection (available locally) and high factor sun lotion (not always available locally) are advised - you may wish to take a sweat-proof "sport" brand from home for use on your face. Hot and humid climates require acclimatisation, as heatstroke is a serious condition: take it easy when you first arrive in the lowlands.
Maximum road altitudes are around 3400m, and you are unlikely to sleep higher than 2,600m, so although it may slow you down, serious altitude sickness is unlikely for the cyclist. It is more of an issue for the hiker attempting a 4000m cone.
Every now and then some fool annoys the bats in the ruined temples badly enough to get bitten, in which case you must (by legal requirement) immediately return to Guatemala City for rabies investigation. In the jungle, sleeping out of doors and un-netted carries a risk of being bitten by vampire bats (they are particularly fond of feet), with similar consequences.
I have never before encountered such well-behaved dogs. Of course there are a few rogues, especially in quieter places, so have a couple of stones to hand.
At time of writing, Guatemala counts as one of the safest places in the whole region from the USA to Perú. The great majority of visitors to Guatemala suffer no security problems whatever, not even minor theft. The average Guatemalteco is as honest and friendly as ordinary folk should be. The risk of physical attack is minimal ("the most dangerous people in Guatemala are the bus drivers"), even though most country-people carry machetes and the freight drivers have guns. If you are aware of a small number of specific risks and don't flaunt your wealth, then you can be as safe as in Europe.
The civil war is over and there are no longer guerrillas, refugees or no-go zones. The economy is growing strongly. Of course, it only takes a few years of political mismanagement and the odd natural disaster to turn all that around, as Honduras and Ecuador amply illustrate, so keep your ear to the ground.
Unfortunately there are a few well-known and specific places where there are armed bandits lying in wait to separate a steady trickle of ill-informed visitors from their belongings. If you avoid these well-known places, you are most unlikely to have any trouble. Even if you do encounter bandits, then provided you offer no resistance you are most unlikely to be physically damaged; in fact if you are polite they may leave you with enough for a bus-fare back to town.
The main danger points are on hikes up volcanoes, and quiet spots in the vicinity of Antigua (cemetery, Cerro de la Cruz, etc). If you set off to walk up a volcano without an armed guide which you have booked from a reputable agency, (this applies particularly to the volcanoes in the vicinity of Antigua and Lago Atitlán, but also any other volcano tourists like to climb), then it is likely you will be politely but firmly relieved of your belongings. Do not deal with guides touting on the street, however nicely forged their "official permits", as some of them are in league with the bandits. Every person I met who attempted to climb a volcano without a proper guide was relieved of their belongings. Think of it as a fine on those who failed to pay the proper entrance charge. Semuc Champey has also had its incidents, although allegedly this has now improved, and people I met who had been there independently had no trouble.
Zones 1 and 4 in Guatemala City are dangerous after dark. If you must arrive in Guatemala City in the dark, pre-book accommodation in Zone 9 or similar. Other major cities (Xela, Escuintla, etc) have zones which are dangerous at night, so take local advice.
Certain roads have a reputation for banditry. Those most commonly cited are the two minor paved roads from the Panamericana to Gódinez on Lago Atitlán, the Petén highway in the vicinity of Poptún, and the vicinity of Melchor de Mencos on the road to Belize. Some other roads in Petén may also be dodgy, so take local advice. The most common incidents are hold-ups at night, though incidents have been much reduced of late. If you are concerned, then the known safe ways to Lago Atitlán are via Sololá or up from Cocales on the Pacífica to San Lucas Tolimán; the circuit of Atitlán is also OK. We obtained local advice against travelling quieter roads in the vicinity of Antigua, which we took seriously in view of the above, though the main paved roads around Antigua are OK. Flores to Tikal and other roads around Lago Petén Itzá are safe.
Do not take photographs of people or their belongings, especially in more traditional areas, unless you have a fully understood agreement as to the terms of the modelling contract, otherwise a nasty situation may ensue. If you don't like paying people to take their photo, then learn to respect their privacy. With children, 1Q, a pen, a little toy or a tasty morsel is a typical fee. Adults may ask you to send them a copy.
The currency is the Quetzal (pronounced ket-SAHL). It is reasonably stable, and at time of writing is Q7.75 to the dollar or Q12.75 to the pound. The only foreign currency accepted in Guatemala is the US dollar – take nothing else. US$100 bills are not popular, so try to take smaller denominations if possible. For security, take some of your money in dollar travellers cheques and a plastic card for use in ATMs. Travellers cheques are now accepted in all main tourist areas. Pisto is local slang for "money" – you will hear the children saying "dáme pisto" or "regálame un Quetzal".
Guatemala is cheap. Accommodation often starts at around 15-20Q, and you should get something pretty OK for 40-60Q. Accommodation rarely includes a breakfast. You can have a filling meal on the street or in a comedor (cheap eating house) for about 12Q, or eat in a better restaurant for 30-50Q. Bus travel is cheap: expect to pay about 5Q per hour. The exception is Petén where travel costs tend to be about double elsewhere. In Guatemala City you may have to pay 100Q or so for lodgings outside Zona 1. An air ticket from Guatemala to Flores is $50 one-way. Tipping is rare, but the occasional small tip for service with a smile is gratefully appreciated.
Unfortunately in main tourist areas there is quite a lot of gringo pricing, and often it is unavoidable. For example, the boat-owners on Lago Atitlán are in cahoots to charge gringos double – it is only worth complaining if they try to charge you even more. A large note can be an excuse to increase the price after it was agreed.
Spanish is widely spoken, though many older country-folk only have a pretty basic understanding of it. There are still many remote villages where few people understand Spanish, but these are well off the beaten track. By comparison to other versions of Latin American Spanish, in Guatemala the S and G are always clearly pronounced, Rs are very strongly rolled, and the N is strongly nazalised at the end of words or before a consonant (eg, son is pronounced as if French, and naranja sounds like "na-rang-ha"). Just to confuse you, "bus" is normally bus, but a smaller bus could be described as camioneta, which usually means "pick-up truck". "Car" is carro, because coche is "pig". Although lengths are metric, weights are imperial (libra and onza for "pound" and "ounce"); liquid is a strange mix of US gallons, litres and ounces.
Most highlanders also speak one or more of the numerous native languages (Quiché, Caqchikel, Mam, Kekchí, etc). These are full of strange glottal sounds and have ferocious grammar. In native place names, an X is pronounced like English SH.
Putting your bike on public transport, even small motorboats, is rarely a problem. The annoyance is that you are then at the liberty of the conductor to charge you a gringo price. Fuente del Norte in Petén are the worst for this. The locals pay little or nothing to put a bike on, but they will ask for a serious fare (pasaje) from you, which will go straight in their pocket. You can usually bargain them down to half the passenger fare for the bike. If they are honest enough to take your bike without charge, then I think it is reasonable to reinforce the habit with a generous tip. Sometimes they omit to give gringos the bus ticket (so they can pocket your fare again). On back roads, lorries and pick-up trucks are the main form of transport. The only problem here is that they might be too full to get your bike on.
The only direct flights from Europe are KLM from Amsterdam (via México City) and Iberia from Madrid (via Miami). Connecting flights are available via Miami, Houston, Dallas, and México City. My experience is that whatever they say officially, KLM will accept your bicycle with minimal wrapping provided you sign a limited release form. On the Iberia flight and other flights via the US, the generous US-style "up to two pieces of 70lb each" may apply, which is great provided you can bag all your panniers in a single kit-bag or something. There are also plenty of flights from Central American capitals, and less frequently from Havana (recent crash on this route), Bogotá, Lima and Santiago. There is a flight from Cancún to Flores, but it is a small aircraft so may not take your bike; the same may apply to the Flores-Guatemala City flights.
There are limited routes by land. There are several major road crossings to El Salvador on the Pacífica and in the eastern highlands. There is one paved crossing to Honduras via Chiquimula in the eastern highlands, and the popular unpaved route via Copán. The "jungle route" to Puerto Barrios from Corinto in Honduras may not be passable by bicycle as it involves a hike – take local advice. The only road crossings from México are by the Pacific and in the western highlands. There is a remote river ferry from La Palma to Los Naranjos in the west of Petén, which offers a paved road connection to Palenque, though you might find a more convenient land route from the Yucatán to Petén is via Belize. There is a road directly from Belize City to Flores (unpaved from El Remate to the border), or alternatively ferry/launches from Punta Gorda to Puerto Barrios/Lívingston.
Arriving at Guatemala City Airport
Each entry to Guatemala gives you 3 months, with no restriction on re-entry. It took about 3 seconds and they didn't even check my passport when I left. Departure tax is currently US$20; arrive early because they are not used to checking in bicycles.
The airport is 5km S of the city centre. Turn right out of the airport (international arrivals), heading north. About 1km from the airport you go under a brick arch and come to T-junction at a dual carriageway with a compulsory right turn. The best thing to do at this point is dash across the dual carriageway, and just to the left of the petrol station opposite is a quiet suburban road which should put you directly onto 3a Avenida (Zona 9). A couple of blocks away on 12a Calle (Zona 9) between 2a and 3a Avenidas is a shopping complex with a large supermarket which is open late 7 days a week. If instead you turn left onto the dual carriageway and keep your head at the major junctions, then you are following the Panamericana to Antigua and México. Unless you know which streets are safe, it is not advisable to cycle or walk around Zona 4 or Zona 1 after dark; pre-book some accommodation near the airport.
The Carretera Pacífica rolls along up and down, sometimes not so gently, quite some way inland. There is no alternative road for through traffic. Parts have been expanded to a dual carriageway in places and some by-passes built, eg round Escuintla. This which makes for safer riding than the single carriageway sections, where signposts forlornly advise drivers "This is not a high speed road". International traffic speeds by, and chaff from the massive sugar-cane lorries gets in your eyes. Some attractive side roads, passing through some attractive villages, take you through a real Guatemala little visited by gringos, down to the black-sand beaches or up to the highlands. For the archaeologically inclined, the giant sculptures of La Democracia are one of Guatemala's unknown treasures.
Most cyclists will come to Guatemala to visit the highlands, with their spring-like weather, volcanoes, and ethnic interest. The favourite spots - Lago Atitlán, Antigua, Chichicastenango and Xela (alias Quetzaltenango) – are heavily gringo-infested. If you are hoping to find the real Guatemala, then you may prefer to approach these places once you have been off the beaten track for long enough to gain nostalgia for your own language and food. Many of the roads in the highlands are astonishingly steep – you can't believe that the local vehicles can get up them. Allegedly there is now a new paved road out of Guatemala City to Mixco Viejo and Pachalum, which looks like it might soon reach Joyabaj.
Antigua. See comments under Security above for safe approach routes and the danger of volcano hikes and other local hikes. There is a moderate climb of about 500m on a busy road out of Guatemala City (1550m) to San Lucas Sacatepéquez, and a steep drop of a similar amount down to Antigua. The road from Antigua to Escuintla is being paved.
Lago Atitlán. See comments under Security above for safe approach routes and the danger of volcano hikes. Lago Atitlán is regularly described as the most beautiful lake in the world, but if you come with that in mind you will be disappointed. The lake surface is at about 1550m, but the rim of the caldera in which it sits is around 2100m. If you want to avoid the crowds, then be aware that by far the most visited place is Panajáchel, Santiago Atitlán is the most popular day-trip destination and San Pedro la Laguna the most popular hippy hang-out. You will get more peace in San Lucas Tolimán, San Marcos La Laguna (a quieter hippy hang-out) or Santa Cruz (only accessible by boat or footpath).
The caldera rim is broken at San Lucas Tolimán, where a pass at 1600m gives relatively easy access up from the Carretera Pacífica (Cruce Cocales) on a mostly well-graded and attractive climb. From Panajáchel to the Panamericana at El Cuchillo (1km from Los Encuentros) is a climb of about 850m in 16km, the first 7km up to Sololá (2100m) being steep. From "Pana" to San Lucas Tolimán requires you to climb up to Gódinez on the caldera rim before dropping down again. San Lucas to Santiago Atitlán is now paved; it stays below the rim, but climbs very steeply up and down. You can detour to Cerro de Oro on a difficult loop road – there is a nice picnic spot by the lake but the villagers no longer wear traje (native dress). Just west of Santiago there is a junction: I guess the mystery road goes to Chicacao but don't quote me. The unpaved road from Santiago to San Pedro La Laguna goes round the back of the volcano, but this involves only one nasty steep climb (500-600m) and similar drop, the rest being flat and reasonably well surfaced. San Pedro to San Marcos is paved and steeply up and down. There is an unpaved road from the Panamericana to Santa Clara la Laguna, but if there is a way up from San Juan, as shown on some maps, I couldn't find it. After San Marcos, the road continues (unpaved) only 3km further to Tzununá; from there back to Pana is by boat.
The main boat services are Pana to Santiago and Santiago to San Pedro, which operate to a regular timetable. San Pedro to Pana is served by regular small launches which come when they come, and stop at the villages on the way if you hail them. All these services will take your bicycle.
Los Encuentros to Huehuetenango. There are two significant climbs on this attractive section of the Panamericana. From Los Encuentros (2400m), the well-surfaced road starts more or less level then increasingly undulating until Nahualá (2450m), where men wear "kilts". There is a moderate climb up to Altos de Alaska (about 2950m) followed by a long, mostly well-graded, drop down to Cuatro Caminos (about 2200m). The 78km from there to "Huehue" (1950m) rarely climbs without intermittent drops, and vice versa. There are a couple of tops at about 2800m around Pologuá (km 17). Then there is a long undulating descent through scantily populated country over 40km down to a bridge near Malacatancito at about 1800m. There is a stiff little climb out of the valley before dropping gently into Huehue. The pavement is a mess, but sections are being resurfaced. Sienko in Latin America by Bike suggests an alternative route from Los Encuentros to Cuatro Caminos, using an unpaved road from Chichicastenango to Totonicapán.
Cuchumatanes. Amazingly, the road from Huehuetenango up into the Cuchumatanes is newly paved as far as the fork where the roads to Todos Santos and Soloma separate. It climbs steeply to 3200m in about 18km after Chiantla (the first 6km are the worst), and then runs over a fairly flat and almost Peruvian landscape to the junction. There are several comedores in this area. Taking the left fork, a reasonable unpaved road climbs gently to a pass at about 3400m. The steep drop to Todos Santos at about 2550m is only 11km. Todos Santos has been "discovered", but it still has the loveliest mountain scenery and is one of the most traditional villages in the country, and not yet over-burdened with gringos. They have a week-long fiesta around All Saints Day starting in the last few days of October.
There is now a rough 4wd track from Todos Santos to San Juan Atitán over not too high a ridge – turn left at the top. According to the Rough Guide, you can travel a long distance beyond Todos Santos, either rejoining the Panamericana near the Mexican border, or using the remote Gracias a Diós border crossing north of Nentón. Further exploration of the Cuchumatanes is possible in the vicinity of Soloma. Another scenic adventure in the western highlands would be to check the truth of the Rough Guide's claim that it is now possible to get from Colotenango to San Marcos via Cuilco and Ixchiguán.
Huehuetenango to Cobán. This road has a fearsome reputation as one of the roughest and most beautiful in the country. It is certainly beautiful and extremely hilly, but from the cyclist's perspective the road surface is not too bad. The climbs out of Chixoy are pretty well graded, but others are steep. Altitudes are from altimeter so rather approximate.
| | | | | | |
| --- | --- | --- | --- | --- | --- |
| Altitude | Place | Object | km | Total | Comment |
| 1950m | Huehuetenango | City | 0 | 0 | Roughly paved. |
| 2000m | (Chiantla 1km) | Jct | 4 | 4 | Turn right at the garita (checkpoint) |
| 2000m |   | Jct | 5 | 9 | Either way will do, but left is the main road. |
| 2200m |   | Col | 7 | 16 |   |
| 1800m | Uspantán | Town | 10 | 26 | Steep. |
| 1950m |   | Col | 14 | 40 | Sparsely populated. |
| 1300m |   | Bridge | 10 | 50 | Fairly steep. |
| 1250m | Sacapulas | Town | 11 | 61 | Undulating |
| 2300m | (Nebaj 24km) | Jct | 13 | 74 | Steep. A further 500m climb to Nebaj. |
| 1900m | Cunén | Village | 5 | 79 | Steep. |
| 1600m | Uspantán | Town | 25 | 104 | Steeply undulating |
| 1400m | Chicamán | Village | 9 | 113 |   |
| 550m | Chixoy | Bridge | 21 | 134 | Sparsely populated; comedores near bridge. |
| 1600m | San Cristóbal Verapaz | Town | 30 | 164 | A couple of small villages on the way. |
| 1600m | (Tactic 15km) | Jct | 7 | 171 | Well paved, beware speed bumps. |
| 1350m | Cobán | Town | 15 | 186 | Undulating, well paved, beware speed bumps. |
It is most conveniently tackled in three days with overnight stops at Sacapulas and Uspantán or Chicamán. You can also stay at Aguacatán (the onion capital of Guatemala) and (probably) Cunén. Had I more time, I should have liked to try the detour to Nebaj recommended by Sienko, as the locals have a particularly absurd costume. Locals allege that there is a plan to pave Huehue-Sacapulas-Quiché in two or three years. There are regular buses from Huehue to Aguacatán. Traffic is very light from Aguacatán to Sacapulas; only two buses a day. There are regular buses from Sacapulas to Nebaj and Uspantán. Traffic is very light from Uspantán to San Cristóbal; the eastbound bus goes in the middle of the night, but there is the odd truck in the day.
This is a transitional region between the highlands and Petén. The vegetation can change between moist temperate forest, tropical rain forest and desert over short distances, depending upon the altitude and whether the local topography acts as a rain-trap or a rain-shadow. One desert area is the upper Motagua valley from Río Hondo to El Rancho, and it gets very hot in the day there. There are few paved roads other the than busy arterial routes. Although the altitudes are lower, the roads remain very hilly. Aside from Cobán, Río Dulce, and the side trip to Copán in Honduras, this area is little explored by tourists. It would appear to be an excellent area for some hard touring well off the beaten track. The road from Cobán to El Estor has been extended (excellent gravel at the moment) to Río Dulce, and apparently the ferry from El Estor to Mariscos no longer runs. Semuc Champey is a most unusual feature – a natural aqueduct with pools above a fast flowing river. There are a couple of hard routes through from Lanquín to the El Estor road. Swimming under the hot waterfall at Finca El Paraiso near El Estor is also a one-off.
Like Antigua, this is an area where it is wise to take local advice on security. Night-time hold-ups still take place on the main road and on the way to Belize, though they have ceased to be a regular event. Visitors walking the short distance from Poptún to the popular Finca Ixóbel eco-tourism lodge after dark are routinely robbed. There is also tension between local inhabitants and multinational oil companies operating in the zone; the ironically named La Libertad is one flash point.
Petén is visited for the Maya remains and the wildlife in the jungle. The wildlife reserves are rather better managed than in the rest of the country. At Tikal you can see spider monkeys, coatis, keel-billed toucans, ocellated turkeys and thousands of parrots without even trying very hard.
The area is only modestly humid in the dry season, certainly more comfortable than the Pacific coast. Some days it can get hot, others it remains more pleasant. In the morning the temperature doesn't usually start stoking up until about 10.00 or 10.30. A strong wind often gusts in the afternoon – watch out for falling branches. It can even get cool enough at night for you to want a blanket in the small hours. The ground is predominantly limestone, and minor roads are liable to be hard, white and very lumpy. In the wet season, and perhaps on into January, they are liable to become impassible. There is remarkably little surface water.
The road from Río Dulce to Flores and Tikal road is now paved the whole way, in theory a straightforward two day ride with an overnight at Poptún. The junction for Tikal is about 8km E of Flores. The road is not flat, with steep little hills of up to 600m, so the scenery has more interest than many rain-forest roads. There are regular villages for supplies. As well as Poptún, there are some accommodation possibilities about 20km either side. El Remate, half way from Flores to Tikal, now has a large selection of accommodation which tends to fill up rapidly, as it makes the early morning trip to Tikal a little less painful. Uaxactún can be visited by bicycle, but remoter sites such as El Mirador remain a serious hike or horse-ride.
Ivan Viehoff, February 2000.
More Touring Notes by Ivan Viehoff
This page is hosted by South America Touring Links Collection of South America biking travelogues