Argentina has the most extensive network of paved roads in south America, and pavimentation continues. Some motorways are closed to cyclists, but if there is no alternative then you can cycle it. Principal gravel roads are often kept well maintained, though minor routes can be as dreadful as anywhere else. Roads near international frontiers are often neglected. In roadworks, which can last for tens of km, it is normal for traffic to be sent along a rough track alongside the road, but cyclists can usually ignore this. Extended distances on unpaved roads, eg Patagonia, are very hard on your bicycle, and you need the strongest panniers and racks you can find, preferably steel racks. Aluminium low-riders are a disaster, as I and many cyclists I met can testify.
Whilst there are friendly and courteous drivers in Argentina, unfortunately there is an aggressive element and the road accident rate is distressingly high in comparison to Europe. Keep your eyes open for cars on the wrong side of the road, overtaking when there is no room, turning right in front of you, etc, etc.
French cyclist on unpaved road in San Juan province

Argentina is under-signposted. Remote rural junctions are usually signed, but leaving town in the right direction can be pretty tricky. The detailed town-plans in YPF guides save a lot of frustration.

Many police check-points have been closed down, and those that remain mostly ignore cyclists. I was asked to show my passport in a couple of remote places. Since they were plainly looking for an excuse to extract a bribe, I politely pointed out the inconvenience of unpacking all my luggage, chatted a bit, and carried on.

Argentina is 3 hours behind GMT and no longer observes daylight saving. In the Andes, this puts this puts sun overhead at around 13.30 all year, which provides extended afternoons and evenings. In the far north, daylight hours vary little during the year, whereas Ushuaia shows a summer/winter variation of 16 hours to 8 hours similar to England.

The best maps available for cycling are in the ACA (Automóvil Club de Argentina) maps, available from ACA offices in provincial capitals, mostly at 1:1,000,000 with some spot-heights. At $8-$10, most covering only one province, it soon adds up. If you can find a member to buy them for you, they are half price. There is a variety of smaller scale commercial maps which are not as good, but are a lot cheaper if you are sticking to obvious routes. International Travel Maps' 1:4,000,000 map of Argentina is surprisingly detailed for the scale and has contours. Zagier and Urruty's Patagonian maps have some contours. I saw no evidence of military survey maps available to the public, though apparently they are available in Buenos Aires. YPF (the petrol company) publishes a hard-to-find pocket-sized road atlas at about half the scale of the ACA maps. Firestone has recently published a road atlas, plainly borrowing the info from every commercial map they could find, as it compounds the errors of them all, and the overall effect is distressingly inaccurate.

A route guide to Argentina is published by YPF in six volumes. These are almost as good as the equivalent Turistel guides to Chile, though they omit the road atlas section and are not annually updated. But they are cheap, stuffed full of valuable town plans and regional maps of tourist zones, and are a treasure trove for those who can read Spanish with their detailed descriptions of touring routes. These YPF guides can go completely out of stock in the area of the country they cover, so when you see the volumes for areas you are going to, buy them. The Lonely Planet guide to Argentina, Paraguay and Uruguay available in 1998 was disappointing, and the South American Handbook appeared rather better - even the single volume all of South America version. The walker will probably be pleased with Lonely Planet's "Trekking in the Patagonian Andes" (2nd ed).

Although accommodation is usually available in any sizable settlement, camping is a compulsory part of Argentinian cycling-touring for all but a carefully planned short tour. There is a small network of Youth Hostels and also a few backpacker hostels in main tourist destinations. Most have cooking facilities. In 1998, these cost about $10-$15 in the south of Patagonia, $8-$10 in most of the country, and as little as $6 as you get close to Bolivia. In contrast to many other South American countries, this accommodation is much used by the local youth. Indeed one of the joys of travelling in Argentina is meeting the locals. In less visited towns, if you don't want to camp you will have to go to a hotel. Hotels start at about $20-25 in most areas, falling to $15 in the North-West. The hostel El Bolsa del Deporte, Palacios 405 (corner of Elflein), Bariloche, is run by cyclist Carlos Vlaene.

Camping is part of Argentinean popular culture. Wild camping is customary and easy. Organised campsites cost $3-$5 per person (1998), and usually have hot showers. Many small towns have municipal campsites or balnearios, and these are often free, though expect facilities to be primitive in this case. In National Parks there are usually designated camping areas. Argentineans often put up a tent beside a barbecue, so don't be surprised if people ask whether you are staying for the siesta or the night. Put your rubbish out of reach or you will be disturbed by foxes. Some campsites have a resident dog or cat which scavenges scraps. Making camp-fires is a traditional part of Argentinean camping, but clearing up isn't.

Stove alcohol (meths) for Trangias is widely available. White gas (bencina blanca) is not easily available - bring some from Chile. Keep your multi-fuel stove soot-free by priming it with alcohol like a Primus. Gas stove users may have problems with the compatibility of local bottles, but you can buy a cheap local burner if you have to. A camp-fire is usually possible, even in the desert.

Food of some sort is available in most villages. Most things close for the siesta from 12.30 or 13.00; reopening times vary from 15.00 or 16.00 in the south to 17.00 or 18.00 in the north, and evening hours vary accordingly. Supermarkets have reduced hours on Sunday, and close in small towns. Dinner is eaten late, especially in the north, where restaurants often do not open until 21.00. Sufficient food-carrying capacity and careful supplies planning is required because of the distances between settlements. In many areas it is essential to be able to carry sufficient water to camp overnight (without surface water available) and ride on the next day; given dry and windy conditions, this means a carrying capacity of at least 10 litres per person - I occasionally used 15 litres before restocking. Ortlieb water-bags are recommended.

Mountain biking has taken off in Argentina, though it's not so popular in gale-torn Patagonia. Bike shops stuffed with the latest Shimano-equipped mountain-bikes are now found in cities from Ushuaia to Jujuy. The best-stocked shops I saw were in Mendoza. The best place to get your bike fixed is Bariloche. Miguel Nitzsche (0944 61862 - find his sign at Bustillo km 7,5) can knock you up a custom-built pannier rack, recumbent, tandem, etc, from remarkably humble parts. He has solved the problem of hard-to-find tools by making his own. Even if there's nothing wrong with your bike, he'd love a visit, especially if you are riding a custom-built bicycle. He speaks perfect English and might invite you to a jazz session. Apart from Miguel, repairers are generally skilled but often need a bit of persuading to do the whole job. I got a Campagnolo 700C touring rim from Miguel, but generally speaking you'd be better off finding spares if you are on 26" or 27". Good tyres had not yet arrived in Argentina in 1998, nor have touring requirements (racks, panniers) of sufficient robustness for long journeys. Available camping equipment is better than what you get in Chile, but I'd have my doubts about it if you can't find a sheltered spot. There is some specialist stuff (at horrendous prices) in Buenos Aires.

If you intend riding any extended distance on rough roads, especially in Patagonia, you need the highest quality panniers (eg, Ortlieb) and steel racks (eg, Tubus steel racks from Germany). Even steel racks break, especially your front one, but it is easier to get a steel weld. Carry a pile of little nuts and bolts, duct tape, cable ties, etc, (all locally available), to repair breakages - expect all of your pannier rivets to fail eventually. If you are going to get to remote places, which is easy in Argentina, the following really ought go without saying: basic tools, spare tubes and tyre, puncture repair, cables, brake blocks, a bit of chain oil (car engine oil is fine), bearings grease and cone spanner, spare chain link, sprocket extractor, spoke key and spokes sized to your wheels, crank extractor, chain extractor. Also carry anything "hard-to-find" which you need for your particular bicycle, eg, I carry spare axles and chain rings. High quality tyres are a rare find, so if you are fussy take some spares. An altimeter, cycle computer and compass are useful assistance in navigation and assessing progress. Patagonia is extraordinarily windy, worse than Iceland, so you need to be confident of your tent and your ability to put it up in a force 10 storm; take a couple of spare pegs and a pole repair. Nights can be surprisingly cold in many areas, especially the desert north, so take an adequate sleeping bag; a silver "space blanket" is a cheap and light way of adding a couple of seasons to a sleeping bag.

Tap water can be drunk in all but the smallest villages. Surface water should be purified in all but a very few places. Food is generally safe. Altitude acclimatisation must be taken seriously in the northern Andes. In southern Patagonia, do not gather shellfish yourself as it is often contaminated by a deadly toxin (see my Chile notes for discussion of Red Tide). Chagas disease is present but rare in northern Argentina, especially Santiago del Estero, so beware of accepting overnight hospitality in primitive dwellings in this area (see my Bolivia notes for more detail). Also deadly but exceedingly rare is hantavirus, and you should be aware of basic precautions (see below). The Argentinean sun is strong, especially in the south because of the ozone hole; high factor sun lotion and lip protection is widely available but expensive, and you may wish to take a sweat-proof "sport" brand from home for use on your face; a broad-brimmed hat is advised. In mid-summer tábanos (horse flies) are a serious pest in forested areas of Andean Patagonia; they hunt in packs and are persistent. In late summer there are many wasps. Bees are africanised and should not be disturbed. Mosquitoes are a nuisance in a few places. The areas bordering Paraguay and the Bolivian lowlands have a small malaria risk, but it appears to be approximately absent in the May to November dry season when you are most likely to be there.

In northern Argentina, the passes to Chile are all around 4,500m. Sudden ascent to this kind of altitude makes most of us ill, and some of us might die. Adequate time for acclimatisation is essential. Only you can know, from prior experience, how much time you need and at what altitudes. Many routes in Argentina present good opportunities for acclimatisation, unlike the Chilean side. If you have no prior experience of staying at the level you are climbing to, you should take account of the possible need to make overnight acclimatisation stops when planning your climb. The long slow climb from Jujuy to Bolivia via the Quebrada de Humahuaca is the ideal route to acclimatise to the altiplano.

A lot of rubbish has been written about hantavirus. Hantavirus, runs the myth, is rampant in Patagonia. In truth you are far more likely to die in a road accident than contract hantavirus. The myth arises because from time to time there are little outbreaks. Most recently this occurred around El Bolsón in the Lake District, where there were four deaths. The outbreak was more serious around Coihaique in neighbouring Chile. In fact there are regular but rare isolated cases all over the Americas, including the USA, but because the symptoms are similar to pneumonia and the incubation period is 4 weeks, it is often overlooked. The disease is transmitted in the excretions and bodily fluids of the long-tailed mouse (ratón de cola larga), but the agent is killed by bleach or by 30 minutes exposure to sunlight. The Patagonian outbreaks occurred because unusual ecological conditions brought on a mouse plague in areas with many holiday cottages. People entering their cottages for the first time in the season disturbed dried mouse faeces in dark corners and inhaled the dust. Hantavirus is easily cured if identified early enough. If you have flu symptoms with a lot of phlegm, go to a doctor and mention the possibility of hantavirus. Once the disease develops fully, the survival rate falls to 50%. To be prudent the following precautions are advised:
Protect your food from rodent damage and do not eat rodent-damaged food
Use a tent with a sewn-in groundsheet
Do not camp anywhere with obvious rodent activity
Do not enter or sleep in disused buildings
Do not enter caves or play under woodpiles
Do not drink untreated water from shaded streams
These precautions are just as valid in North America, where the carrier is the deer mouse. The disease is also reported from Asia.

Dogs are only an occasional nuisance. The locals throw stones at dogs which are annoying them, including their own dogs, and would be surprised if you did not do likewise.

Security in Argentina is similar to Europe, a lot better than Brazil, Colombia and Ecuador, but a bit worse than Chile. You need to look after your belongings as you would in Mediterranean Europe, particularly in the towns, though in the countryside you can be fairly relaxed. In general, the risk of violence is low. The exception to this is Buenos Aires or Córdoba, where "the wrong area" can be dangerous.

The Argentinean currency is the peso, written $ or AR$. It used to be subject to hyper-inflation, lose zeroes and change its name every few years. But since 1991 it has been stable and fixed at one to one with the US dollar. US$ bills are used interchangeably with, indeed often preferred to, pesos. You get bad rates for any other kind of foreign cash; if arriving from another country change your excess into US$ before you leave. A new policy has been announced, which might change this one day - the Peso will be fixed to the average of the Euro and the Dollar, but only once the Euro has regained parity with the dollar; I have my suspicion that they will be forced to do something more drastic before that happens.

Bank machines taking Visa and MasterCard are widespread, but tend to issue $100 bills which are hard to spend, especially in the NW. Provincial peso notes have been issued by some bankrupt NW provinces, including Jujuy, Tucumán and Catamarca. Latest news is they are being introduced in Provincia de Buenos Aires. These are only valid in their respective provinces, but usually the locals will avoid giving them in change to visitors.

Argentinean prices are roughly comparable to France. Accommodation prices were given above. A simple meal out costs starts at around $10, but half that in the NW. Bus travel is not the bargain it is Chile or Bolivia, but you can usually get 1,000km for $30-$40 if no border crossings are involved. Postage and telecommunications price are as extortionate as in Perú or Bolivia; if you are heading for Chile wait till you get there. An international call from Chile to Argentina is cheaper than a national call in Argentina, though this might change with the introduction of competition. That said, I travelled more cheaply in Argentina than in Chile because of the ease (or perhaps necessity) of camping and cooking for myself.

Argentina has widespread, efficient, comfortable bus services. Many will take bicycles for free. Shop around as prices vary. Most of the long-distance passenger train network was closed down in the 1990s, though there are still a few routes, such as Bariloche and Tucumán. Putting your bicycle on an aeroplane doesn't seem to be a problem, though I never did it. The prospects for getting a hitch are usually good, especially in remoter areas (except Tierra del Fuego) as people generally drive pick-ups and are incredibly friendly. I was frequently offered unsolicited lifts.

The long-term traveller may be interested in a couple of unusual southern hemisphere routes. Aerolíneas Argentinas/Air New Zealand fly Buenos Aires-Río Gallegos-Auckland-Sydney; currently the Río Gallegos stop is only made on the way to New Zealand. Malaysian Air System fly Kuala Lumpur-Cape Town-Buenos Aires. The Falkands are accessible via Punta Arenas in Chile once a week and, from October 1999, once a month from Río Gallegos (see my notes on cycling in the Falklands). I met a French couple who claimed to have crossed the Atlantic in a cargo ship from Dakar (Senegal) to Buenos Aires.

Arriving at Buenos Aires Airport

Each entry to Argentina gives you 3 months, with no restriction on re-entry. The international airport, widely known as Ezeiza but officially called Ministro Pistarini, is 35km SW of the city centre. You can legally cycle out of the airport, but you soon arrive at a motorway you cannot cycle on. Alternative routes exist but are neither direct nor signposted, and you pass through some dodgy areas on the way. Better to negotiate a lift with one of the minibus services, which are around $11-$14 (1997). The domestic airport, known as Aeroparque or Jorge Newberry, is close to the city centre.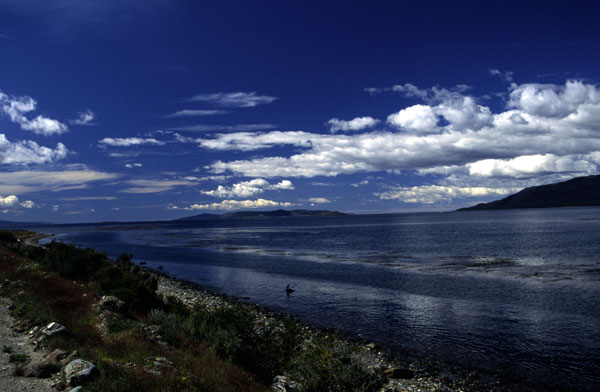 Beagle Channel beyond Harberton

Tierra del Fuego is a surprising jewel after the barren plains of Patagonia. It is about half the size of Ireland. Around 100,000 people live in the Argentinian half, (3,000 in the Chilean portion), but nearly all live in the two towns of Río Grande and Ushuaia (oos-wye-ya). The north is grassy steppe. The central area is an attractive transition zone of little wooded hills and lakes, where guanacos run around amazing red and yellow-coloured pastures. The south has a forested and glaciated mountain range comparable to Norway, with wintry weather all year to match. It is extremely windy, though a bit less so once you get into the hills. Since winds generally come from the west and are stronger in the north, it is better to ride to rather than from Ushuaia, and to arrive via Porvenir rather than Punta Delgada. In the mountains, weather conditions can deteriorate badly at surprisingly modest altitudes, as in Scotland.

There is little surface water north of Río Grande, and what there is tends to be saline, so you need to carry water in that area. When camping, a wind-break is more urgent than a water supply. Visitors are heavily concentrated in the peak season of Jan/Feb, though the weather is not much worse a month or so out of season. Remoteness makes Tierra del Fuego a bit more expensive than mainland Patagonia. It has been a tax-free zone for many years, though this status was due to end in 2000, so expect prices to go up even further. Don't gather shellfish as they are frequently deadly poisonous.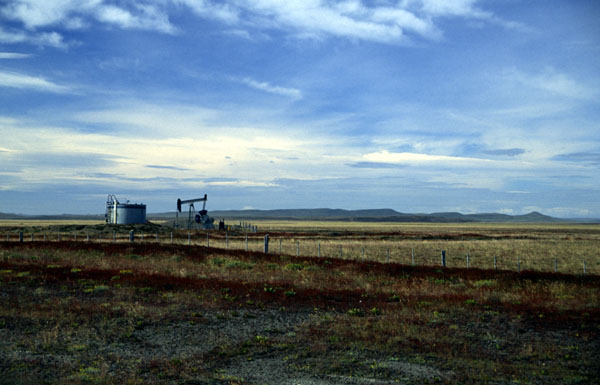 Near Río Grande

Getting from Ushuaia to Puerto Williams (on the Chilean Isla Navarino, an excellent trekking area) is currently a serious pain because the regular ferry was discontinued and yacht owners expect about $50-60 to take you. You might save a few pesos if you try to pick up a yacht at Puerto Almanza, a marina directly opposite Puerto Williams. See my Chile notes for options for Puerto Williams-Punta Arenas transport. The bus from Ushuaia to Punta Arenas is expensive, $55 in 1997/8, and should be booked a couple of days ahead in peak season (Jan/Feb); it is easier to get on the Río Grande-Punta Arenas bus. There is no bus service from Ushuaia to Río Gallegos, as it more practical to fly. There is a stiff departure tax from Ushuaia ($24 in 1998), so it is rather cheaper to fly from Río Grande. There is a bus service some days from Río Grande to Porvenir. Hitching in Tierra del Fuego is difficult because high transport prices mean there is a lot of competition for hitches, but it gets easier if you are off the beaten track.

In 1997/8, the road from San Sebastián to Ushuaia was entirely paved apart from the 90km from Tolhuin to 10km short of Ushuaia, but work was in progress to extend the pavement at the Ushuaia end of the road. On this section, there are two gentle passes at around 400m. Supplies are available in Río Grande, Tolhuin and Ushuaia (only); there is a hotel at San Sebastián and a tea-shop at Harberton. Estancias are less frequent than in Chilean Tierra del Fuego. Río Grande is an industrial town and its available accommodation leaves something to be desired. For some reason, many maps omit to show Tolhuin, which is situated at the head of Lago Fagnano (also called Lago Kami). There are shops and an excellent cheap campsite by the head of the lake at Tolhuin. There is another campsite 20km further towards Ushuaia if you think the 100km from Tolhuin to Ushuaia is too much for one day.

The Parque Nacional at Lapataia is heavily visited, and those visitors are concentrated in a small area because most of the park has been declared a strict reserve (ie, closed). But there are some nice campsites and you can escape the hordes by making one of the longer day-walks. More rewarding is to travel one of the little-used backroads, for example to Harberton or Lago Yehuin. Some maps show up to three routes to Harberton, but in 1998 only the inland route following the Lashifashaj valley existed. The direct road to Tolhuin is entirely imaginary, but the coastal route to Ushuaia is apparently under construction. As you head east of Harberton on a deteriorating track that goes further than the maps show, the views just get better and better.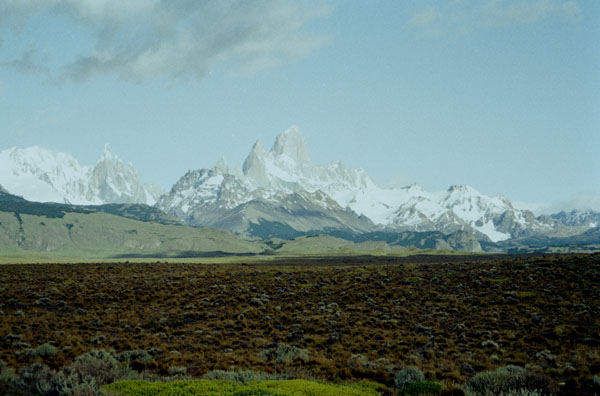 Fitzroy and Cerro Torre

You won't forget cycling in Santa Cruz. Though it's tough to predict which will linger longer in your mind, the amazing Andean views or the endurance test posed by the winds and roads. Be prepared for extraordinary winds (generally from the west), large temperature fluctuations (summer max up to 40C), enormous arid plains where the absence of a view continues unaltered for 100s of km, and large distances between food and water supplies. Of these, the most demoralising is the wind. You can take 5 minutes to cycle to the shops and 30 minutes to get back, and that's on an average day. On a bad day you cannot cycle at all on a level paved road. But there are wonderful places to visit - the Perito Moreno glacier, the Fitzroy trekking area, the Bajo Caracoles area with Cueva de las Manos and Andean lakes. And there is the satisfaction of having endured. Late summer into autumn is better, as calm intervals become more common. Río Gallegos is an industrial town, not somewhere to linger.

Ruta 3 from Comodoro Rivadavia to Río Gallegos. "It's a paved road. It's flat. I must be able to ride it." All but one of the cyclists I met who tried to cycle this 800km road gave up. One pair ran out of water. The others couldn't handle the wind and the unchanging scenery. Supplies at Caleta Olivia, Puerto San Julián and Piedra Buena. Puerto Deseado is worth visiting, but it's a detour. There are buses and hitches to be had.

Ruta 40 from Calafate to Perito Moreno. (The town of Perito Moreno, not the glacier). They say you'll never forget it if you cycle this way. This unpaved road gets some maintenance these days, so it's not as terrible as it used to be. If you set off, you will have to get through as the prospect for getting a lift is not good. There is no bus or freight traffic, even tourists are scarce. As the locals say, not even the birds fly that way. In some places you do get a spectacular view if the clouds lift from the Andes; there are a couple of canyons, a few flamingos on salt lakes, but there is a lot of flat nothing in between. There are supplies at Tres Lagos, and very limited and expensive supplies at Bajo Caracoles. There are a couple of estancias where you can get water, but take local advice on the current situation as it tends to change from year to year. You shouldn't have to go further than 150km between water supplies, but that's a long way under the conditions. You can detour to Gobernador Gregores for supplies, but this adds 60km. El Chaltén (Fitzroy area) is deservedly popular with trekkers, but the foothills are not special in themselves, so you should leave enough time to give a fair chance for the clouds to clear (one day in five on average) to get those utterly amazing views. Supplies at El Chaltén are cheaper than at Calafate. The little-visited PN Perito Moreno (yes, this is the third distinct place in Santa Cruz named after him) west of G. Gregores is a long way up a terrible road so you'll need to carry a lot of food to visit it, though there is a rumour about a re-opened hotel. From Bajo Caracoles, you can head for Cochrane in Chile via the Paso Roballos - take the road via Lago Posadas as there are supplies and it's a better road. Alternatively, from Roballos, you can head north along the frontier to Los Antiguos via another terrible road. See my Chile notes for an adventurous options via Villa O'Higgins - probably considerably harder to arrange from the Argentinean side, though if you were determined you could probably make your way through without assistance.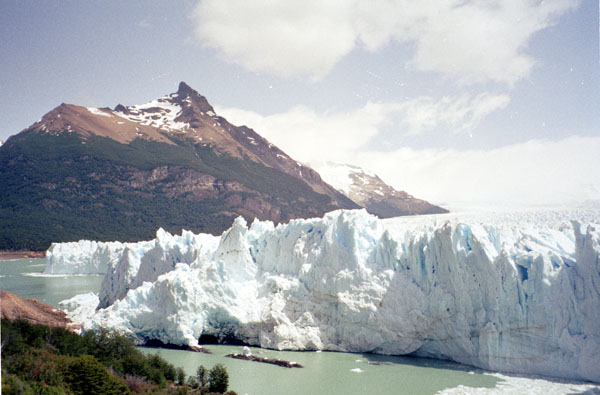 Moreno Glacier

Calafate and Perito Moreno Glacier. Supplies and accomm at Calafate are expensive. If you want to visit the specatacular Perito Moreno glacier on your bicycle, you will probably need to camp overnight, but remember that you can't camp in the immediate vicinity of the glaciar viewing area. People have recommended that a boat trip to see the glaciar is better value for money than the coach trip. The PN Los Glaciares is a large park, and some interesting but little visited areas are accessible to the adventurous cyclist from Calafate.

Ruta 40 from Calafate via Cancha Carrera to Puerto Natales (Chile). This route is now maintained and used by tour buses. There's a bit of a view some of the way. Supplies at Cerro Castillo in Chile, where cyclists have often camped in the village square! A non-existent inn/estancia is shown on many maps where Ruta 40 meets the paved Calafate to Río Gallegos road - there is nothing there. You can also go to Puerto Natales via the mining town of Río Turbio. It is physically possible to ride/push a bicycle via the Paso de Zamora from Calafate to Torres del Paine, but this is not a legal border crossing. Sometimes it is possible to arrange special permission to go this way, but many fail. If you should happen to find yourself crossing the border "by mistake", then the most pragmatic solution is to cross back discreetly, as it is not usually possible to get entry/exit stamps retrospectively.

Ruta 43 from Caleta Olivia to Los Antiguos. This paved road is another long flat one, but there is a bus service. Comodoro to Río Mayo is a more interesting road (see below), but leaves you with 90km of unpaved nothing to get to the main attraction, Lago Carrera (see my Chile notes).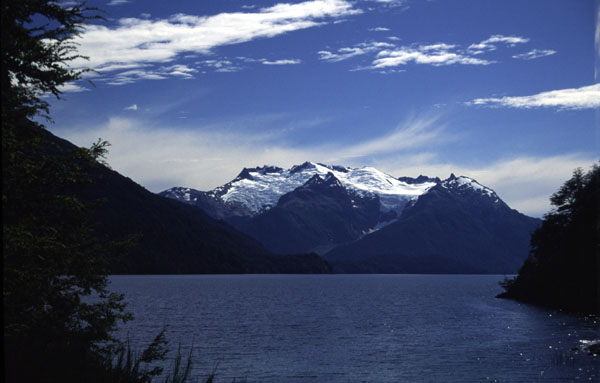 Los Alerces

Chubut is mostly similar to Santa Cruz, and has its own jewels. The NW corner from Trevelín northwards is an extension of the Lake District, and winds are less unreasonable in this area. Although there is a north-south paved road in the west of the province with some interesting places on the way, most cyclists will prefer the Carretera Austral in Chile. The Puerto Madryn area has wildlife interest (whales, seals, penguins) if you are early enough in the season (whales are May-December, peaking Sept/Oct), and Welsh cultural interest.

Comodoro Rivadavia to Río Mayo. This paved route is refreshingly different from the usual barren Patagonian flatness, passing through two interesting ranges of hills, some colourful desert, and a large oasis watered by two enormous freshwater lakes. Near Comodoro, you can camp at the quiet beach resort of Rada Tilly. Around km 30 are a few organised campsites along the valley. At km 75 is the industrial site of Cerro Dragón with petrol station, café, etc, though they got annoyed when I wanted to camp on their grassy patch. Km 150 brings you to the surprising oasis of Sarmiento (and its mozzies), the better campsites are by the river about 2km N of town up a terrible road. There is an excellent wildcamp by the Río Senguer at km 225. The last 50 km into Río Mayo (free campsite, unless you visit during the annual sheep-shearing festival week in November) are the usual flat stuff. There is a bus from Comodoro Rivadavia to Río Mayo and Coihaique (Chile). See above for a picture of the road to Río Mayo, near the Río Senguer. A lot of Patagonia looks like that. South of Río Mayo I experienced a mirage rather like the fata morgana effect you can see in Iceland, in which non-existent snow capped mountains appear on the sky-line.

Trevelín to El Bolsón via PN Los Alerces. This is one of the best bits of the Argentina Lake District, (views of jagged peaks, glaciers, dark blue lakes, etc) though it gets busy in peak season. Trevelín is a Welsh town. The unpaved road through Los Alerces is mostly well-maintained, and there are several nice campsites varying from civilised to simple. If you want to see the giant alerce trees, you have to go on a boat trip. Between Cholila (petrol station) and the main road you pass Butch Cassidy's ranch.

Puelo to Puelo (Chile). It is possible to ride (legally) from Lago Puelo near El Bolsón in Argentina to Puelo in Chile. It is a rough track and there are two river crossings (Río Manso and Río Puelo) where you will have to find someone to ferry you across. Carlos Vlaene at El Bolsa del Deporte, Palacios 405 (corner of Elflein), Bariloche (tel 0944 023529, a recommended hostel), runs organised mountain bike treks on this route, and may be a source of information.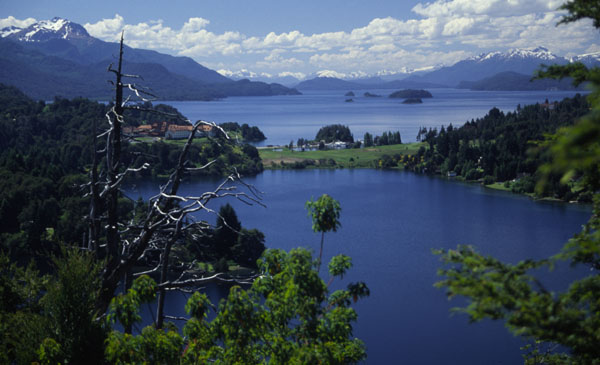 Llao Llao

The Argentina side of the Chile-Argentina Lake District is more satisfying to my mind, because the lakes sit in mountain valleys; the beautiful coigüé woodlands are more extensive than in Chile; the trekking around Bariloche with its spires and pinnacles is hard to beat. Several of the interesting routes are crossings to Chile. This is a transition zone between arid Patagonia and the dense temperate rain-forest on the Chilean side of the Andes, and rainfall is quite significant even in summer. There are strong winds, but not every day. The ACA map covers the three provinces of Río Negro, Neuquén and La Pampa as one sheet. Trekking maps of the Bariloche area are locally available. In mid-summer it can get very hot and those tábanos (horse flies) will be after you in swarms; November/December and late Feb/March are good times to be here. In Bariloche, drop in for a chat with Miguel Nitzsche (0944 61862 - find his sign at Bustillo km 7,5) who is one of the most inventive cycle mechanics and custom frame-builder on the continent; he speaks perfect English.

Siete Lagos. There are several unpaved routes from Bariloche to San Martín de los Andes. The route via Villa La Angostura (RN 234) is known as the Siete Lagos, though there are more than seven lakes. This is one of the star routes of the zone. It are lots of steep hills and the volcanic sand makes some stretches unrideable, so don't expect to get very far in a day. There are several simple camp-sites on the way, and also a hotel at Pichi Traful. No supplies from Villa La Angostura until San Martín. It is possible to get from Bariloche to Villa La Angostura by taking a tour boat to Los Arrayanes and riding a rough track (my friends recommend this); harder to do in reverse because of the difficulty of booking the boat. The routes from Confluencia via Villa Traful (RP 65) and the Paso del Córdoba (RP 63) are even rougher than the Siete Lagos, but quieter and worthwhile. 17km south of San Martín at the top of a pass (1100m) is the popular and unusual wildcamp spot of Arroyo Partido - the river splits, one side draining to the Atlantic, the other to the Pacific.

Bariloche to El Bolsón.120km of paved road, quite big ups and downs, wonderful views, a couple of cafés on the way. To split it in two, I suggest taking the rough detour to Lago Steffen and camping. Other side routes are worthwhile mainly if you want to go trekking around Monte Tronador.

Bariloche to Puerto Montt (Chile) using three ferries via Llao Llao, Puerto Alegre, Puerto Blest, Puerto Frías, Peulla, and Petrohué, is popular, despite the high risk of rain and the cost. This is a tourist attraction, not public transport. Your bicycle will be charged at half the passenger rate. It is a bit cheaper if you do it from the Chilean side, but expect to spend well over $100 including the bike from either side. You will probably find it necessary to spread the crossings over two days; it is possible to camp in or near Peulla. If you wish to explore this interesting area, you may find it more rewarding to go walking around Bariloche, and/or to make the walk from Cayutué to Ralún - small boats can be hired to take you from Petrohué to Cayutué.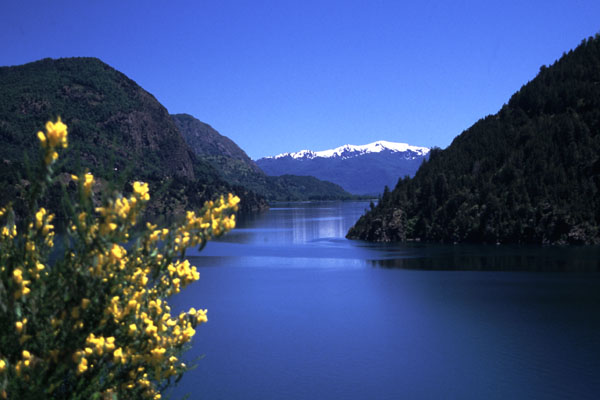 Near San Martín de los Andes

San Martín de los Andes to Panguipulli (Chile) is recommended. It involves a lake ferry over Lago Pirihueico, which runs twice a day. If you miss the ferry, the track round the lake is very rough. I know no one who has tried the Paso Carirriñe.

Bariloche to Entre Lagos (Chile) is a beautiful ride. The Chilean side of the pass was paved in 1998, but work is progressing slowly on the easier Argentinean side. A nuisance is the absence of anywhere sensible to stay or camp between Villa La Angostura and Entre Lagos, which is about 115km; the Conaf campsite at Anticura is simple, unattractive, and cost US$9 per site in 1997/8.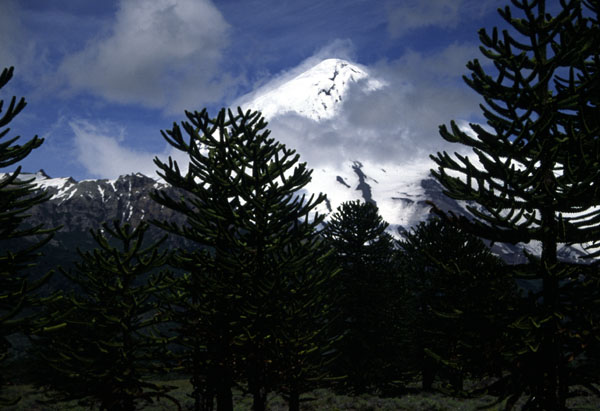 Volcán Lanín

Junín de los Andes to Pucón (Chile) is a lovely crossing, with close-up views of the largest volcano of the zone, Lanín. The road from Junín to Paso Tromen is rather soft in places, so expect to take a day over this. There is a beautiful simple campsite (small charge, popular at weekends) at Lago Tromen just east of the Argentinean border post, 2km down a rough track and over a ford. The Chilean border post is at the bottom of the pass, and the road is bad from there to Curarrehue (first supplies, free camping area by the river with no facilities). The road from Curarrehue to Pucón should be paved by now.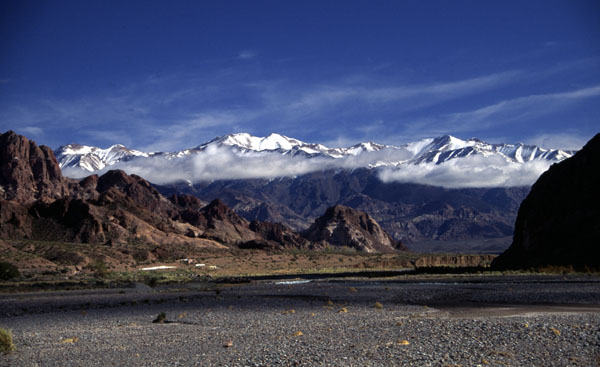 Canyon near Uspallata

The area around Mendoza is one of the most rewarding parts of Argentina to visit: views of the highest mountains of the Andes, amazing coloured desert canyons, combined with better access to civilisation than further north. Mendoza itself is a huge oasis watered by snowmelt from the Andes. The enormous expanse of desert stretching from the Lake District to San Rafael is strictly speaking no longer Patagonia, but no one has told the landscape or the weather which remain comparable, though the roads are now hillier and the sun hotter still. Pavimentation is still partial from Chos Malal to Malargüe, but otherwise it is possible to stick to paved roads. Best to avoid both mid-summer and mid-winter in this area. There is a rough but rideable pass from Malargüe to Talca (Chile), Paso Pehuenche (2550m).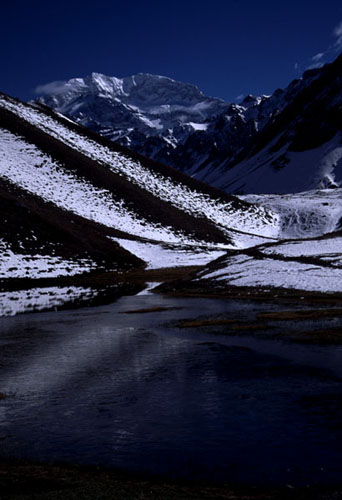 Aconcagua

Mendoza to Santiago (Chile). This route is unmissable with views of Aconcagua and colourful canyons. The 4km tunnel is at 3185m, and the tunnel guards will bus you through. The pass is kept open all year, but is periodically blocked for a couple of days during snowfall from about April to September. If you want to climb up to the Cristo Redentor statue at 3863m, it is accessible via a track from the Argentinean side until the first autumn snowfall. There are three routes from Mendoza (800m) to Uspallata (2100m, where there are supplies, hotels, campsites):
The main RN7 is the least interesting and longest.
RP82 is paved and more interesting, following a canyon before rejoining RN7 just short of Potrerillos.
RP52 via Termas de Villavicencio crosses a 3000m pass (not 3700m as given in some guidebooks, though you can detour to that height). Part of the way from the top to Uspallata is unpaved but OK. Better done from the Uspallata side as the climb is less.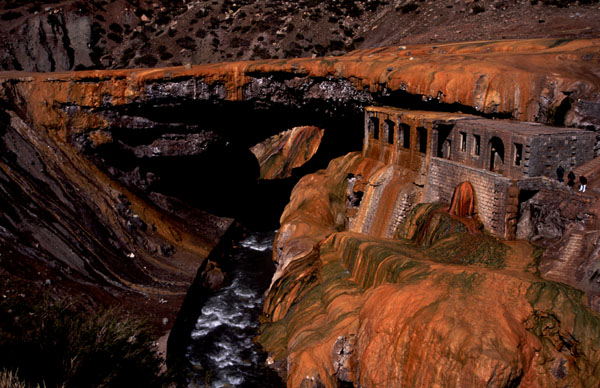 Puente del Inca

Above Uspallata, there are plentiful wild camping possibilities, also cafés and pricey accommodation at Punta de Vaca, Los Penitentes, Puente del Inca and Las Cuevas. It is perfectly OK to go up past the Argentina border control at Puente del Inca without having your passport stamped if you are not leaving the country. If arriving from Chile to climb Aconcagua, you should go down to the border post to have your passport stamped first.

Mendoza to San Juan. The busy main road is 180km of flat nothing, though the gap between each city's respective irrigation zone is surprisingly short. Free campsites (bring water) about one third and two thirds along. Supplies and simple accommodation at Villa Media Agua (60km from San Juan). Much more interesting to take the back road from Uspallata through Calingasta, only unpaved for about 50km.

Monte Desert (San Juan to Salta)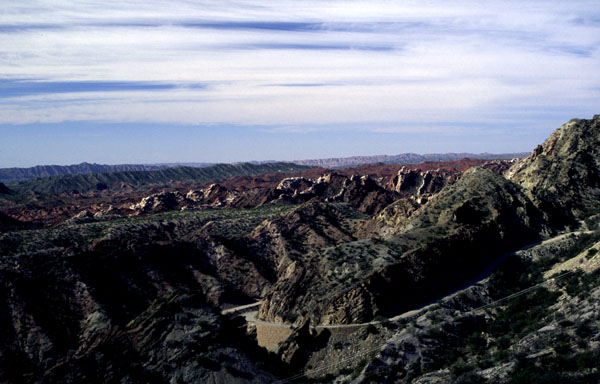 Badlands near Huaco

"Monte" is the South American equivalent of the Australian usage "bush". To me this is the most inspiring area of Argentina with its amazing coloured deserts and super-friendly people. Of course, there are a few long flat bits when haze obscures the mountain views, but the Monte holds my interest more than Patagonia. The culture is a weird mix of Mediterranean, Andean and Middle Eastern (President Carlos Menem is a Syrian from La Rioja). It is best to be here in the cooler half of the year. Even in mid-winter, day-time temperatures can exceed 30C, but in summer it's more like 45C. Bring some warm stuff as the temperature can plunge to below freezing at night. Despite all the trees, this is the desert. Rainfall is typically below 100mm, coming in about 2 or 3 summer downpours. Then you cross a pass and find yourself descending though rainforest to moist sub-tropical Tucumán. The NW of Argentina is poor, and general costs are somewhat lower than elsewhere. They use thorn clippings instead of orange cones, so expect regular punctures.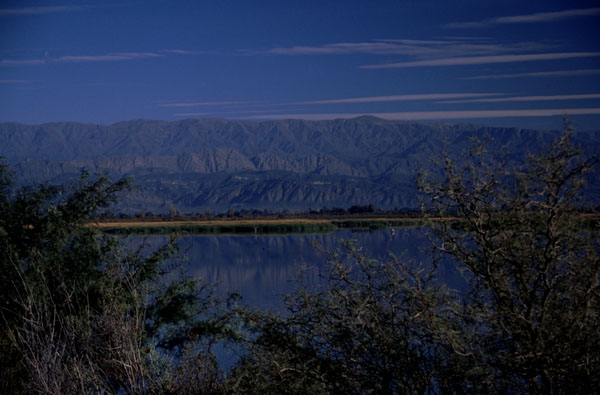 Lake in the desert near Jáchal

The main road through San Agustín de Valle Fertil, La Rioja, San Fernando de Valle de Catamarca and San Miguel de Tucumán is pretty flat with long gaps between supplies. Much more interesting are the lumpier back routes, because, of course, the passes have the best views. If you go this way, detours to the national parks at Talampaya (the most interesting), Ischigualasto, Las Quijadas (near San Luís) and Los Cardones are almost superfluous, since you will see similar scenery on the road.

To travel to the high Andes on passes to Chile or the route to Antofagasta de la Sierra is serious expedition cycling. Above 3000m, rainfall is generally higher with storms in summer, though there are large dry depressions, eg, Salar del Hombre Muerto. The high passes sometimes become blocked for the winter by an autumn snowfall. Until you have acclimatised, altitude is a very serious issue (see above). The roads can be unrideably soft. Water becomes an all-consuming concern. Just north of Santiago in Chile, Eric Savard at O'Higgins 178, Los Andes (tel 034-422322) has detailed information on some routes in this area supplied by an Austrian cyclist. The Chilean Turistel (Norte) guide is a good source of information on the high Andean passes.

Route notes on "the back road to Salta". Altitudes approximate. Anything described as "village" has supplies, but not necessarily at "sm vill" (small village). Brackets imply place is on a side-turn off direct route.

| | | | | | |
| --- | --- | --- | --- | --- | --- |
| altitude | place | object | km | total | comment |
| 800m | San Juan | city | 0 | 0 | No option but to cycle up motorway to get in and out in N/S direction. |
| 900m | Talacasto | jct | 54 | 54 | Abandoned village, no water. Pass at 1200m on the way. In retrospect wish I had taken the paved road via Iglesia and Rodeo, but could not get advice on altitude of Portezuelo del Colorado. |
| 1000m | Niquivil | sm vill | 78 | 132 | Supplies from unsigned despensa. There is an isolated house about 20km north of Talacasto. |
| 1000m | Jáchal | town | 24 | 156 | Wild camp by river or hotels. |
| 1100m | Cuesta de Huaco | col | 28 | 184 | Cross river and take 2nd signpost right to Huaco. (The first is a less interesting route.) Pavement lifted (for resurfacing?) |
| 900m | (Huaco 6km) | jct | 4 | 188 | Pavement restarts. In reverse direction, go straight on ignoring signpost to Jáchal (which is the less interesting route via Huaco). |
| 1000m | (Guandacol 2km) | jct | 71 | 259 | Roadside water tap at puesto near Santa Clara shortly before jct. Guandacol is small village. |
| 1150m | (Villa Unión 3km) | jct | 41 | 300 | Paved, pass at about 1300m. Free camp at petrol station at jct or north end of town, or hotels. |
| 2100m | Cuesta de Miranda | col | 60 | 360 | Being paved, 20km finished in 98. Good surface on climb. Café at Los Tambillos. |
| 1600m | Miranda | sm vill | 11 | 371 | Pavement restarts km7. Campsite by river (freshwater) at km9, facilities abandoned. |
| 1050m | Sañogasta | village | 8 | 379 | Via paved loop off main road. Campsite. |
| 950m | Nonogasta | village | 12 | 391 | |
| 1050m | Chilecito | town | 16 | 407 | Main campsite at San Miguel was closed when I arrived. Wildcamp W of town or hotels. |
| 1250m | (Famatina 10km) | jct | 22 | 429 | |
| 1050m | Pituil | sm vill | 48 | 477 | Now paved the whole way through. |
| 1050m | Shaqui | village | 36 | 513 | Start of San Blas ribbon settlement. Residencial at Shaqui, or campsite at Andolucas 2km south. |
| 1050m | Alpasinche | village | 22 | 535 | End of San Blas. Authorities at Las Robles. Supermarket at Salicas. |
| 1050m | | jct | 6 | 541 | Main La Rioja to Tinogasta road. |
| 1050m | Londres | village | 71 | 612 | Campsite. RP3 from Londres to Tinogasta is closed for foreseeable future. |
| 1100m | Belén | town | 13 | 625 | Free camp in park by Hotel de Turismo. Cyclists said RN40 from Santa Maria is soft and were forced to hitch due to sandstorm. Bus to Antofagasta de la Sierra on Friday morning (takes 14 hours) returns Sunday. |
| 1100m | Andalgalá | town | 89 | 714 | First 8km and last 15km paved (sort of). Soft in places. Hotels. |
| 1100m | | jct | 5 | 719 | No signpost. |
| 1950m | Cuesta La Chilca | col | 28 | 747 | Unpaved. Drops 100m on bad surface before climb, then OK. Fork right at top, small settlement. |
| 1750m | Buena Vista | village | 22 | 769 | Soft going. Start of Aconquija ribbon settlement, hotels. Rough pavement starts here. |
| 1400m | Estancia | sm vill | 13 | 782 | End of Aconquija. Bridge. Pavement stops here. |
| 1850m | Cuesta El Clavillo | col | 17 | 799 | Also called La Banderita. Muddy climb into the rainforest. |
| 1000m | Cochuna | camp | 13 | 812 | Rough muddy descent. |
| 500m | Alpachiri | sm vill | 18 | 830 | Pavement starts here. |
| 500m | Concepción | town | 17 | 847 | |
| 400m | Monteros | town | 24 | 871 | Campsite on main road or Hotel Congreso. |
| 400m | Soldado Maldonado | village | 8 | 879 | |
| 1850m | La Angostura | café | 44 | 923 | Parque de Menhires is just above petrol station/café and just below jct for El Mollar (4km). |
| 2000m | Tafí del Valle | town | 11 | 934 | Touristical town. Campsite or hotels. |
| 3000m | El Infiernillo | col | 21 | 945 | |
| 2200m | Amaichá del Valle | village | 34 | 969 | Touristical village. Good cheap residencial with Sra Lucila de Albarracín (unsigned). |
| 1900m | (Quilmes 5km) | jct | 17 | 986 | Now all paved. Unpaved road up to Quilmes archaelogical site is soft. |
| 1650m | Cafayate | town | 49 | 1035 | Now all paved. Campsite or hotels. Free world-class wine-tasting at Etchart 4km before town. |
| 1200m | La Viña | village | 104 | 1139 | River in Quebrada de Cafayate is salt. Free camp at village sports centre. |
| 1200m | Coronel Moldes | town | 24 | 1163 | |
| 1150m | Salta | city | 63 | 1229 | Recommend Salta Backpackers, Calle Buenos Aires 930, tel 235910, barbecue Wednesday. |
This area is a transition to Bolivia, and exhibits a similar variety of scenery - amazing coloured canyons of the Quebrada de Cafayate and Quebrada de Humahuaca, the bleak altiplano locally referred to as puna, the yungas or cloud forest on the easternmost slopes of the Andes, and humid lowlands to the east. I had such a good time here that I spent more days off the bike than on it... Are the people of Jujuy the kindest in all Argentina? The best time to visit is May to August, the local winter/dry season, though this does mean that at altitude the nights are well below zero. Walter Sienko in "Cycling in South America" recommends the unpaved Valles Calchaquíes from Cafayate to Salta via Calchi (2300m). Those who went told me that the surface is so-so and the scenery less interesting than the direct route via the Quebrada de Cafayate, except for the well-surfaced and attractive descent into Chicoana through the PN Cardones. A serious adventure from Calchi is the rough Abra de Acay to San Antonio de los Cobres; at 4895m (allegedly) it is the highest road in Argentina. The Chilean Turistel (Norte) guide is a good source of information on the high Andean passes. The ACA combines Salta and Jujuy on the same map.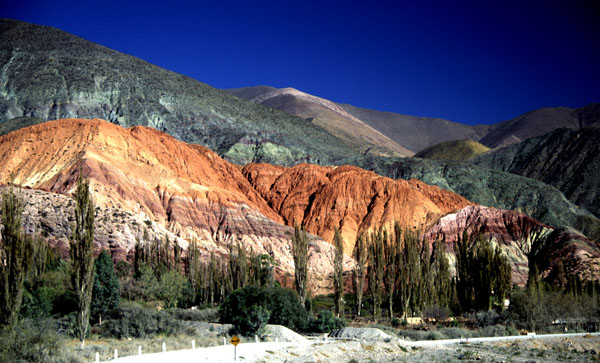 Purmamarca

Quebrada de Humahuaca. A great route. It should by now be entirely paved. There are interesting acclimatisation stops at Purmamarca (2200m), Tilcara (2450m) and Humahuaca (2900m). At Humahuaca you can stay for free in mediaeval conditions with batty anarchist Raul Prchal - his house "Huayra Huasi" is above the town centre to the west - everyone knows him. Camping is generally easy. There is accommodation (cheap by Argentinean standards except at Purmamarca) at these places, and also at Tumbaya (2100m), Maimará (2400m), Abra Pampa (3450m) and La Quiaca (3400m). The pass just above Tres Cruces is 3750m. The main route to Chile is the Paso de Jama, now paved from Purmamarca to Susques, with a sharp climb to 4100m out of Purmamarca. The highest point is about 4600m. An interesting exploration is the area around Laguna Pozuelos (3650m), the most important flamingo site in Argentina. If you turn left past the petrol station out of Abra Pampa, you are now on the old RN40 and have to turn left again (no sign) before turning right a little later (signpost Pirquitas), pass at 3900m. Access to the lake is from near the Guardaparque (water from well) on the Rinconada road at the south end of the lake. Supplies at Rinconada, Santa Catalina, and Cieneguillas. Cieneguillas to La Quiaca is undulating, reaching 3800m. Even if you don't plan touring Bolivia, a detour to Tupiza is highly recommended.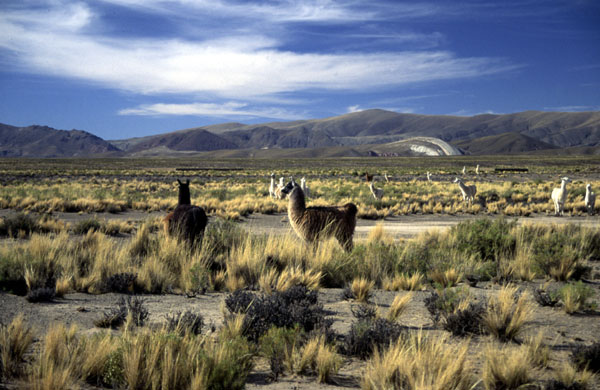 Altiplano near Laguna Pozuelos

Much of eastern Argentina is rather flat, which is why I haven't been cycling there. The Sierras de Córdoba and San Luís are promising terrain, a bit greener than the Monte. Misiones allegedly has some scenery (ie, hills) in addition to culture and Iguazú. The Chaco has wildlife and thorns, but not much scenery.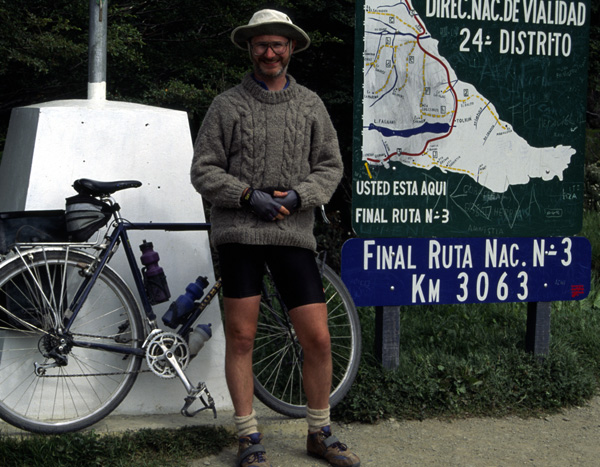 The author at the end of the road

Ivan Viehoff, February 1999, revised August 2001.



This page is hosted by South America Touring Links Collection of South America biking travelogues